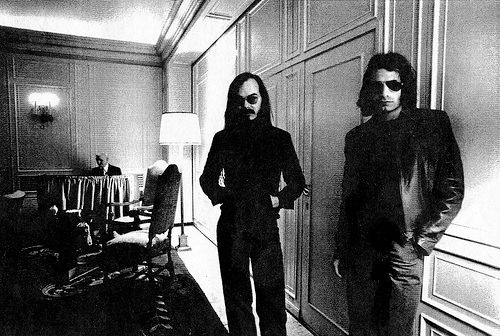 It was September of 1977 and I was starting my senior year of high school. [Yes, I have passed my 30th reunion a couple of years ago, and I did not go.] It was a big time for me, as I started to prepare for the next stage of life. That was when I first started hearing the music from Steely Dan's
Aja
, and incredible album which, in some ways, became a soundtrack to the year. I was already a Steely Dan fan - from
Reelin' In The Years
to
Kid Charlemagne
. But with the new album, Donald Fagan and Walter Becker upped the ante of their music, offering a steeper blend of their rock with a smooth jazz sweetener. Take, for example, the title cut, which might not have been a single, but showcased the new sound and feel. Steely Dan really had a remarkable arc to their time together, which was only really 1972 to 1981, although they did reunite in 1993.
Aja
placed #3 on the US Billboard Top 200 Album chart, making it the highest ranking Steely Dan effort. During their career, Steely Dan put out nine studio albums, the lowest chart position was for 1973's
Countdown to Ecstasy
, which was #38 on the US album chart.
The first single was
Peg
, was an interesting combination of sounds, with the dance beat creating almost an Earth, Wind & Fire meets Weather Report feel. Peg just missed the Top 10, plateauing at #11 on the US Billboard chart.
Deacon Blues
, the next release, stayed in the Top 20, placing #19. One of my favorites from the album, it started off with the smooth jazz intro, but then allowed the percussion to take over, maintaining a more pop feel, although the vocals favored a jazz structure.
The final released single from the album,
Josie
, took on a more traditional rock groove, although the melodic line of the vocals still had a jazz tinge. It scored #26th on the US chart, continuing the success of the album.
So, during my senior year, Steely Dan was playing the entire time. And I already listened to WMMR and WYSP, both album oriented rock stations out of Philadelphia, who already had a love for the band. So I nominate Aja as the soundtrack for the Class of '78.