Sometimes, there is certain music that just is a part of your childhood because siblings are listening to it. The 5th Dimension are like that for me, as my sister Kathy listened to them, and had their albums. The five original members were Billy Davis, Jr., Florence LaRue, Marilyn McCoo, Lamonte McLemore, and Ron Townson. And from the point of view in this post, they are the only members of the group, for they stayed together through 1975, when all their great music was recorded. They worked with some of the great pop writers of the time, including Ashford & Simpson, Laura Nyro, Burt Bacharach and Hal David, and Jimmy Webb.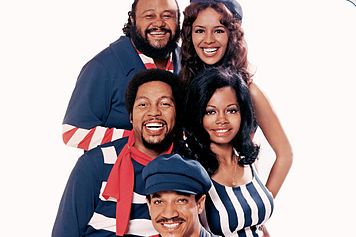 Jimmy Webb penned such songs as
By The Time I Get To Phoenix
,
The Magic Garden
,
MacArthur Park
, and
The Worse That Could Happen
, to name a few. He also wrote
Up, Up And Away
, a Top 10 hit for the 5th Dimension. It went to #7 on the Billboard Top 100 pop chart.
Laura Nyro wrote and performed
Stoned Soul Picnic
, but in 1968, it was the 5th Dimension that made the song a hit. As the group went on and become more popular, they would add more soul to the recordings, more of their own flavor. They manage to take a hippie folk song and make it a rolling soul number, a call to a neighborhood party.
Aquarius/Let The Sun Shine
was written by James Rado, Gerome Ragni, and Galt MacDermot, and were centerpieces of the American Tribal Love-Rock Musical,
Hair
. Released in 1969, the recording sat at #1 on the Billboard chart for six weeks, and was certified platinum in sales, a much greater rarity than it is now. The later part of the song utilized the gospel voice of Billy Davis, Jr, who that very year married the gorgeous Marilyn McCoo. And dig the groovy video, folks.
Written by Burt Bacharach and Hal David,
One Less Bell To Answer
was a prime example of a pop ballad as only those two could write. Marilyn McCoo started to step out in front, and warmed the hearts of all who heard the heartbreaking song. The song stormed up the US charts and topped out at #2. "I end each day the way they start out, cryin' my heart out." Great stuff. If you don't sing along to this song, you have no heart.
In 1975, Marilyn McCoo and Billy Davis, Jr. left the group, embarking on a solo career that included top hits like
You Don't Have To Be A Star, Baby
, hosting their own television show, and hosting duties on the show Solid Gold. At last check, Florence LaRue was still doing some touring, utilizing the band name. But nothing can compare to when the band was at their height, 40 years ago.