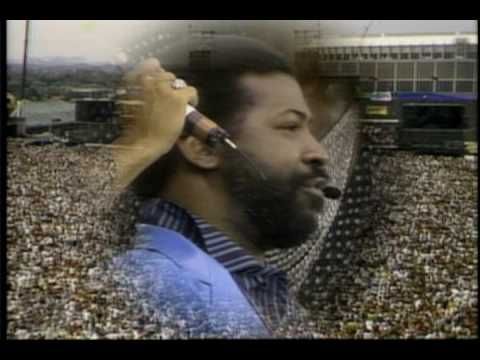 Philadelphia born Teddy Pendergrass passed away yesterday, January 13, 2010. Handsome, brimming with sex and machismo, Pendergrass is the enduring image I have of the man who was a part of my early adulthood, being from the Philadelphia area. Teddy started out his music career as a drummer for the group The Cadilllacs. In 1970, he joined Harold Melvin & the Bluenotes, a Philly-based group, as their drummer. Within months of joining the Bluenotes, the lead singer left, and Teddy was promoted to the job. Soon the band was signed to Philadelphia International Records, run by the the writing team of Gamble & Huff. In 1972 the group put out an eponymous album, featuring the monster hit
If You Don't Know Me By Now
, which shot up the charts, topping out at #3 on the Billboard Hot 100, and #1 on the Billboard R&B chart. Teddy's expressive vocals helped the song stand out from the rest of the music on the radio.
In total, the group released four albums, the last being 1975's
Wake Up Everybody
, which went into the Top 10 on the US Album chart. It also spawned the mega-hit of the same name. It was an amazing song, filled with political ideas, delivered in the inimitable Teddy style. This was one of my favorite Teddy songs, a truly great performance.
Not too long after this, Pendergrass went out on his own to make a solo career for himself. In 1977 he put out his debut, a self-titled album that continued his success. His second album,
Life Is A Song Worth Singing
, was released in 1978, along with the single, a Gamble & Huff penned tune
Close The Door
. Songs like this cemented his position as a loving yet sexy singer, and he looked damn good doing it.
His career continued to soar, staying near the top of the R&B and Pop charts thru 1982 when he was involved in an automobile accident, when the brakes on his Rolls reportedly failed. He went into the hospital for an extended period, and it was revealed he had a spinal chord injury, and was paralyzed from the waist down. He went through a prolonged recovery process, including physical therapy. His music stayed on the charts, thanks for the music he had recorded prior to the accident. He finally returned to the studio in 1984 to record his next album, This One's For You, which included a duet with a little known singer, Whitney Houston. In July 1985, Pendergrass took to the stage with Ashford & Simpson at the historic
Live Aid
concert in Philadelphia, making a triumphant return to live performance. They sang
Reach Out And Touch
, which he most certainly did that day, just shy of 40 months after the accident.
He was soon back to work, touring with his music, as well as touring in the gospel musical,
Your Arms Too Short To Box With God
. He also continued putting out albums and top rated singles. That included the song Joy, which made it to #1 on the R&B charts in 1988.
He continued on until 2006, when he retired from the music business. In 2009 he went back to the hospital with more medical problems, and passed away on January 13th, 2010, just 59 years old. His joy will most definitely be missed.