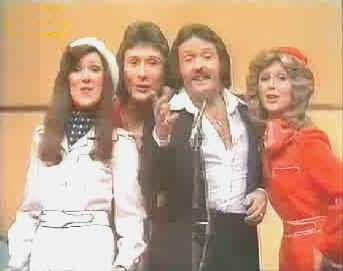 Top to bottom: Brotherhood of Man, White Plains & Edison Lighthouse
What do
Love Grows (Where My Rosemary Goes)
,
United We Stand
, and
My Baby Loves Lovin'
all have in common? All were hits in the first half of 1970, ushering the early crop of one hits wonders for their respective bands,
Edison Lighthouse
,
Brotherhood of Man
and
White Plains
. The first out the gate was Brotherhood of Man singing
Untied We Stand
. While it never achieved the top spot, it did run up the charts to #13 in the US, and had a long shelf life, as it has continued to be a song thought to be spiritually uplifting, used for many occasions. One such event was after 9/11, over many a montage and ceremony. When it starts to play, everyone just wants to sway and sing along.
In march of 1970, Edison Lighthouse released the playful and joyous
Love Grows (Where My Rosemary Goes)
. Bouncy and springy, you can't help but feel happy when you hear it. The first minute of the video is just announcers for the British show,
Top of the Pops
[the UK equivalent of
American Bandstand
], and check out the 2nd girl with the prizes and her eyelashes!
In June of '70, the White Plains had
My Baby Loves Lovin'
rise to the top of the US chart, securing another #1 for a British act. It is another great pop song that makes you want to move with it, a bit more rock than the others, even if the boys look like they are dressed to be the backup band for the Partridge Family. Again, this is a clip for
Top of the Pops
.
So, in the beginning of 1970, three different British acts moved up the US charts, and it was the only hit of those bands, relegating them to be forever known as one hits wonders. But what truly makes these groups so special and forever bound is that on all three songs, studio singer Tony Burrows was singing the lead vocal. Burrows, who was in high demand at the time, was brought in by producers to sing on the songs, something he did often. However, it is quite rare for all three to be released within months of one another, and all becoming major hits. Even more odd, Burrows sang the lead on Gimme Dat Ding, a novelty song performed by the
Pimkins
that hit #9 on the US chart in April of 1970. When I played the song, I have no memory of it whatsoever, so take my word he sang that one, too. To be honest, I had no idea Burrows sang on the three songs, and am fascinated that with 3 hits in 6 months and 3 different bands, he might have to be known as the King of the One Hit Wonders.