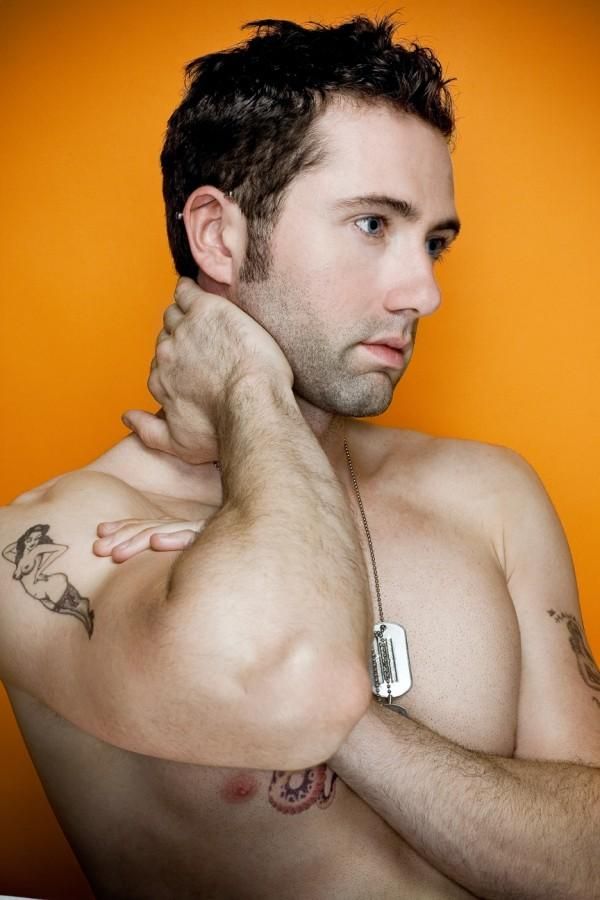 I have long said, you never can tell where you will find new music. I was chatting away on Twitter to my friend @bsayasane and she pointed me in the direction of Sacha Sacket, who I had never heard of before. And what a gift that was, for I am truly impressed with his music. So I downloaded his most current, and EP entitled
Hermitage
, and was so impressed I went back for two more,
Lovers & Leaders
, as well as
Live at the Zone
, recorded by he and the all-girl band, billed as Sacha & the Ladykillers. Before I start talking about the EP, I will get to some facts about Sacket. Indeed, he is a handsome man, and according to his biography, he was born in Tehran, Iran, and is an American citizen living in Los Angeles. From all reports, he wrote the five songs on Hermitage at an isolated mountain cabin where he had gone to recuperate following and extensive tour. He is an out and proud gay man, creating music without the support of a label. Despite that, he has put out four albums on his own, starting with the 2001 release
Alabaster Flesh
, followed by 2004's
Shadowed
, 2007's
Lovers and Leaders
, and 2008's
Live at the Zone
.
From all reports, he just filmed the video for the first single,
Running Away
, so I have no video support for the EP, but will offer up samples of his other music while discussing the EP. And speaking of
Running Away
, it also is the first song on the EP, opening with a sparse piano and violin duet, before adding his strong voice and more instruments. There is an interesting ebb and flow to this song, very tidal, with hills and valleys in intensity and strength. I really like it.
Used
opens with a bolder vocal, with just a bit of percussion accompanying him, only to quickly add all the instrumentation, soon to quell to a cello. The chorus swings back and forth between plaintive wail and accusatory scream. The intensity level is high, and this could be my favorite of the collection.
Sacha Sacket Sampler
Sweet, soft and sensitive,
You Could
speaks of love's tender side, showing a different side to the artist and his voice. Hold On and Hope is not a political slogan, but instead an introspective and philosophical offering from the heart. With lyrics like
And all these tears won't stop the rain, slipping down that window pane. You can hate it but it won't erase a stretch of time, so hold on,
could it be anything else.
The River
has a sound more alternative, with classical overtones in the construction of the melodies. I am constantly amazed at the way Sacket slips between using his voice as an instrument and using it to tell the story. I take from it a need to fight to stay above water in the river of life, learning to swim as soon as possible.
Sacha Sacket & the Ladykillers - Desire & Cockatoo Live
Sacket has a wonderful, full tone to his voice, and uses it with remarkable ease and agility. To learn more about Sacha Sacket, you can check out his website
here
, or his
MySpace
page, where you can listen to some music. I would highly recommend purchasing any of his music.