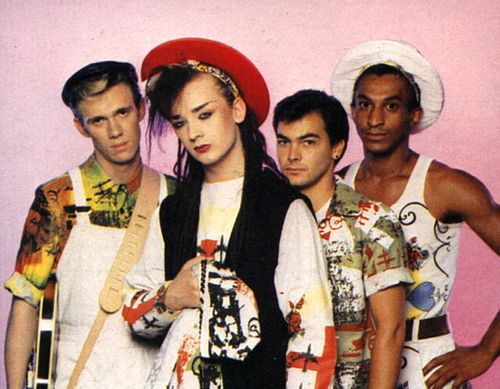 Inspired by a recent post from David of
Dave's Daily Dilemmas
and how much he enjoyed a live concert, and knowing my friend David Dust was a fanatic about him/them, I sought out recent footage of Boy George performing. Boy George, of course, first shot to fame as part of the group Culture Club in the 80s. It was 1982 when the strains of Do You Really Want To Hurt Me flowed through the radio, and when the video hit, confused a generation beyond belief. Boy George was referred to as 'androgynous' and gender-bending by some, and a drag queen by others. Part of the 'New Romantic movement coming out of Great Britain, the band looked like several other groups out there. But George, with his hats and turbans, long braids, heavy makeup, and flowing frocks was like no one before him, and set a standard few have even tried to reach.
George and the band continued to put out music together until 1986, when declining sales and his surfacing drug problems prompted a need for a change. It was said his relationship with bandmate Jon Moss [photo below, to the left of George] did not end well, adding to the stress. An arrest for heroin possession and a fatality at a party in his house pretty much quieted the talented George in the US market, until 1993/s
The Crying Game
, theme song for a movie of the same name. While he continued to have hits elsewhere worldwide, it was not to be in the US.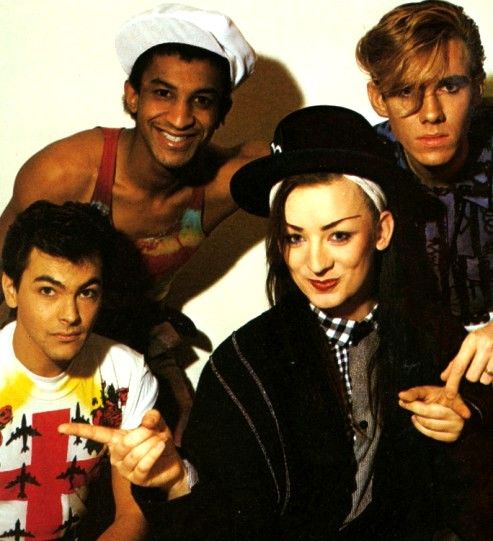 Recently, there have been more run-ins with the law, including a trial and jail time for an incident with a rent-boy, or male prostitute that involved handcuffs, chains, and a prolonged stay. by the time of his release in May of 2009, George was said to be clan and sober, and tried to regain his career in music. He has recently started touring again, as well as performing as a guest on shows in the UK. One such show is the Jools Holland
17th Annual Hootenanny
. Jool Holland was a founding member of the rock group Squeeze, and has been hosting a musical TV program in the UK since 1992. On New Year's Eve, Boy George appeared.
One song he performed was
Pentonville Blues
, written while in prison at Pentonville. It has an interesting ska feel, an odd choice, I think, for a pasty white, gender-busting, Irish gay guy, but as long as it works for him.
He also performed his Culture Club hits,
Karma Chameleon
and
Church of the Poison Mind
. At 48, George doesn't have quite the range he displayed 28 years ago, but is still in great voice. His voice nestles in a slightly deeper register, and there might be a bit of gravel where there once was pure silk, but it only seems to add depth to the songs.
Karma Chameleon
Church of the Poison Mind
From all reports, it sounds as though Boy George is in the best place he has been in during his career, both mentally and with his health. That is great news, and I certainly hope he keeps it moving in that direction. You can find out more about Boy George on his official website
here
. Here is a
link
to a new video released recently. It is called
Amazing Grace
.