From the New York Times, By
Dave Itzkoff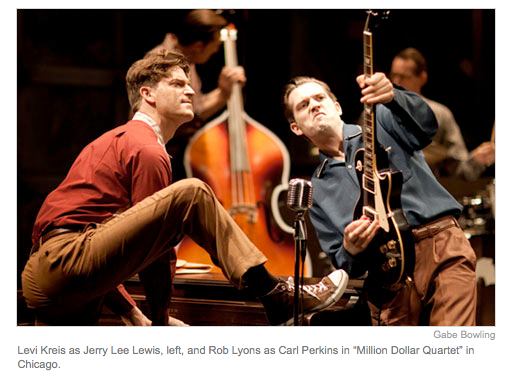 Finding an Elvis Presley impersonator in New York probably isn't too much of a challenge; hiring convincing doubles for Johnny Cash, Jerry Lee Lewis and Carl Perkins is probably a few degrees of difficulty harder. But why bother when you've already got a cast that can do it, and has been doing it for more than a year?

The principal foursome from the Chicago production of the musical "Million Dollar Quartet" will reprise their roles when it transfers to Broadway, joined by a pair of New York stage veterans, the show's producers said on Thursday. The musical, about a 1956 jam session that brought together four of the biggest names in rock and roll, will star Eddie Clendening (as Elvis Presley), Lance Guest (Johnny Cash), Levi Kreis (Jerry Lee Lewis) and Rob Lyons (Carl Perkins), all making their Broadway debuts. Added to the cast are Hunter Foster (of "Urinetown" and "Little Shop of Horrors"), who will be playing the Sun Records producer Sam Phillips, and Elizabeth Stanley (Broadway's "Cry-Baby," "Company") who will play Elvis's girlfriend, Dyanne.

The musical, which includes songs like "Blue Suede Shoes," "Great Balls of Fire," "Folsom Prison Blues" and "Whole Lotta Shakin' Goin' On," is to begin previews on March 13 at the Nederlander Theater and open on April 11. It is directed by Eric Schaeffer with a book by Colin Escott and Floyd Mutrux.
I am near-giddy about this. I cannot wait to see this live, and to see Levi Kreis live on stage. I have featured Kreis on this blog a couple of times, and have yet to see him live. For information about the show or for tickets, click
here
.