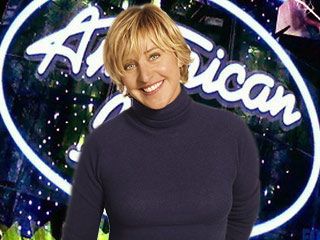 This evening the ninth season of
American Idol
will premiere, focusing on the auditions in Boston, Massachusetts. This season marks not only the debut of Ellen Degeneres as judge, replacing bad negotiator Paula Abdul. I am not sure when she will be debuting, and think she will not appear in tonight's episode, 8PM, 7PM Central time on Fox.
Also, it was announced Tuesday that the rumors are true, Simon Cowell will not be returning for season 10. He will, in fact, be busy preparing his new show for Fox Television, the US version of his UK hit show,
The X-Factor
. Similar to AI, X-Factor is a search to find undiscovered singers, but instead of the judges offering opinions from afar, they mentor a couple of singers/groups they mentor throughout the show. The new Fox lineup will be
AI
in the Spring,
So You Think You Can Dance
in the Summer, and
X-Factor
in the Fall. As of yet there is no word on Cowell's replacement on AI.
MTV's Jim Cantiello posted the first of his
American Idol in 60 Seconds
, a brilliant series that will become a weekly feature to AI fans and comedy lovers alike. Sorry, after a few years of watching Jim do this, I have a bit of a crush on him. If the video isn't working in the post, try clicking
here
and watching it.