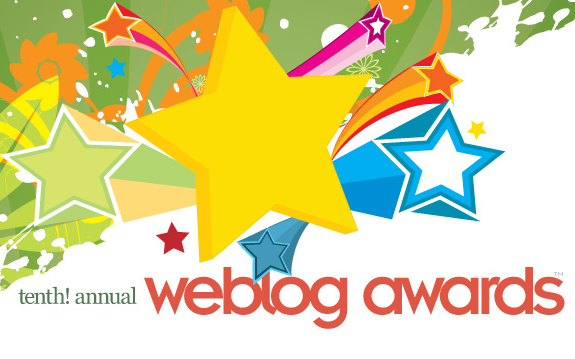 Imagine my surprise and delight when I happened across the
Tenth Annual Weblog Awards
and saw this blog nominated in the category
Best Weblog About Music
with four other accomplished blogs. Truthfully, shock might best describe it, as I hadn't realized the blog was even under consideration, let alone be among the finalists in the category. To whomever made the original nomination, I am grateful for your appreciation of
Soundtrack to my Day
, which is a labor of love. For the preliminary voters who put us in the finals, I am honored. For those of you who would like to vote for us, you have my appreciation.
A big part of any blog are the comments, and I have been lucky to have a great group of regular followers as well as the occasional visitor who have added to the great atmosphere enjoyed on these pages. Your contributions are certainly a contribution to the success of the blog, and, for me, a part of the reason for the nomination. Thank you so very much.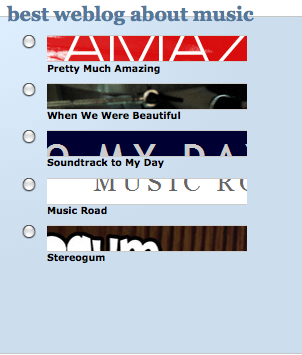 The above is the category, as well as the others nominated;
Pretty Much Amazing
,
When We Were Beautiful
,
Music Road
, and
Stereogum
. I checked them out, and all are quite nice and deserving of support. Also, in the Lifetime Achievement category, Joe Jervis is nominated, and deserving of support, as his
Joe.My.God
blog is incredible.
The voting procedure is one vote per email address. If you return to vote again, the ballot will be replaced, so be sure to mark all the categories you have with favorites. Voting is open from now until Sunday, January 31st at 10PM. To place you vote, go
here
, where the screen goes horizontally, not vertically. The music category is about halfway across. But do check out all the categories and blogs, there are some fascinating entries. At the far right, there is a place to fill in your email address and an anti-spam word device before completing the process. A verification email will be sent to the address to finalize the vote. The winner will be announced in March at the South by Southwest Interactive Festival in Austin, Texas. For those who will vote for the blog, thank you so very much.