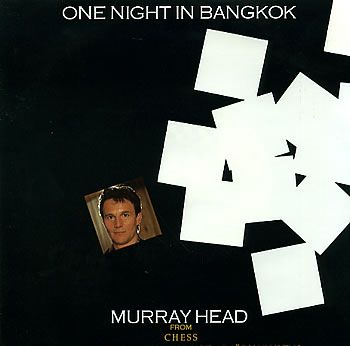 In 1984, the concept album for the musical
Chess
was released. The musical had lyrics by Tim Rice, and music by Björn Ulvaeus and Benny Andersson, formerly of ABBA. Prior to the first production ever being mounted, Murray Head, Tommy Körberg, Elaine Paige and Barbara Dickson sang the leads, all big names on the stage, both London's West End and Broadway. The musical was a story about the cold war, depicted by the struggle between American and Russian chess champions. It features the KGB, love affairs, broke hearts, and evil capitalists, who could ask for more? Well, how about hit songs before the theater is even rented?
It starts with Murray Head and
One Night In Bangkok
. As unlikely as it sounds, and far ahead of it's time, the song from the stage musical features rapping and Eastern-flavored music, and is written by a Brit and two Swedes. And it topped the charts worldwide, including scoring #3 on the charts in the US and Canada.
The ladies were not about to be overshadowed, and for one month held the number one spot on the UK charts with
I Know Him So Well
. I still is in the
Guinness Book of World Records
for the biggest selling single by a female duo.
The song is sung by the wife and the mistress of the Russian champion, both ladies contemplating their relationship with the man.
Interestingly enough, despite the success of these singles, and success on London's West End run for three years, the Broadway production went through extensive reworking that still only got them 2 months and some mixed reviews. There are still rumors floating around that
Chess
will be returning to Broadway with Josh Groban in the lead. If that happens, I will so be there!