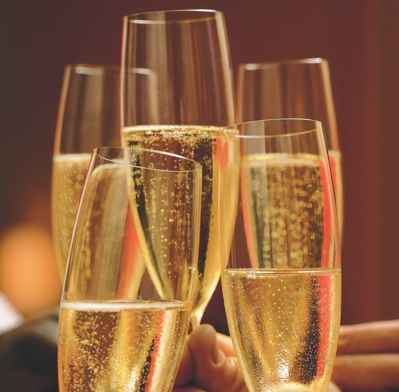 Champagne for everyone!
Yes, as I and several others mentioned yesterday, Soundtrack to my Day was named Best Weblog About Music in the 2010 Weblog Awards, or Bloggies. I discovered this when I noticed increased traffic from the
Bloggies site
on my FEEDJIT traffic feed, and I went there and found this: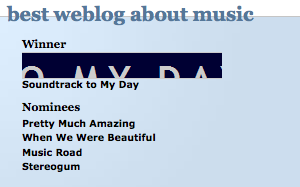 I went back and checked several times, for I was in disbelief. I will admit to being in a bit of a winter funk, with what seemed like endless snow, and a rough week or so at work. Then I read the rules, and see that the winners were announced on Sunday night via Twitter, so I had missed this:

So it was true, it seems the blog had won. I was totally prepared for the whole 'I am just thrilled being nominated' thing, because that is so very truth. It was not that long ago that David Dust and Tranny Beth talked me into blogging, and then through setting it up. My goal was to talk about the music I love. My
first real
post was about Casey Stratton, for I had just purchased his album and decided to review it. I've covered my favorite out and proud singer/songwriters, their videos, new releases, and the live shows I have attended. So I feel once I have thanks David & TrannyBeth, I must thank all the musicians, signed or unsigned, gay or str8, who have made music that inspired me on this blog. Casey, Eric, Tom, Aiden, Levi, Matt, Chad, Chris, Gareth, Guy, Toby, Syd, Travis, Ari, Ivri, Wes, Lee & Alex, Theo, Mikey, Shane, Ronan, Jimmy, Paul, Stewart, Anthony, Garrin, Daniel, Angel, and others, thanks. Y'all do the hard work, I just chat about it. And to the readers, I owe appreciation as well. Your comments keep me on my toes, and remind me there are people out there who, like myself, appreciate good music. Whether you appreciate the new artists or the old favorites, without your support and kindness, none of this would be possible.
To celebrate in the traditional 'Soundtrack' way, I offer you Daniel Cartier, who has a new album coming out soon. Here he is singing an a cover of the Eurythmics
Here Comes The Rain Again
as I look out the window to watch the rain, grateful it isn't more snow.