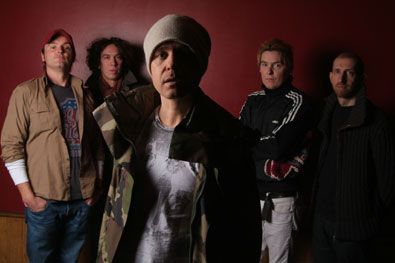 The UK-based band first got together in 1989, six guys looking to make their own style of music. James Atkin, Ian Dench, Derry Brownson, Mark Decloedt, Zac Foley, and DJ MILF EMF pulled together to make a sound that was very new, very fresh, and, for my money, ahead of its time. Take, for example, their first single,
Unbelievable
. The song, off the
Schubert Dip
album, jump starts with the sound of rock guitars, and by the chorus is in full-throated drum support, all the while maintaining a party atmosphere in the song. All the while, the song is sung with a somewhat reedy British boy complete with accent and slight detachment. The sound was like no other on my radio at the time, and I loved it.
Perfect Day
was released in 1995, and the song opens with a guitar riff more psychedelic in nature, lending a retro feel, without sounding old fashioned. It was off the
Cha Cha Cha
album, and the song didn't chart in the US, but it certainly made an impression on me.
The second single off the debut album was
I Believe
. It combined the driving synthesizer with the harder edged guitar with a background vocal suited for a late 60s/early 70s pop song. Atkins vocals were at their most involved and impassioned on this track, a nice switch from the earlier ones. While it didn't make the US Pop chart, it did in fact make it to the Top Ten on the Modern Rock chart.
Lies
was the final release from the debut. Again the guitars were more Jimi Hendrix than most for the day, with a hard charging beat belying the mariachi feel to the flugelhorn. It felt as though Jimi was playing for the Thompson Twins, or some other edgy New Wave band, perhaps completing the journey Terry Hall was taking when he created The Colourfield. Whatever it was, I enjoyed the ride. Lies made it into the Top 20 on the Billboard chart, topping out at #18.
For more information on EMF, check out their official website
here
.