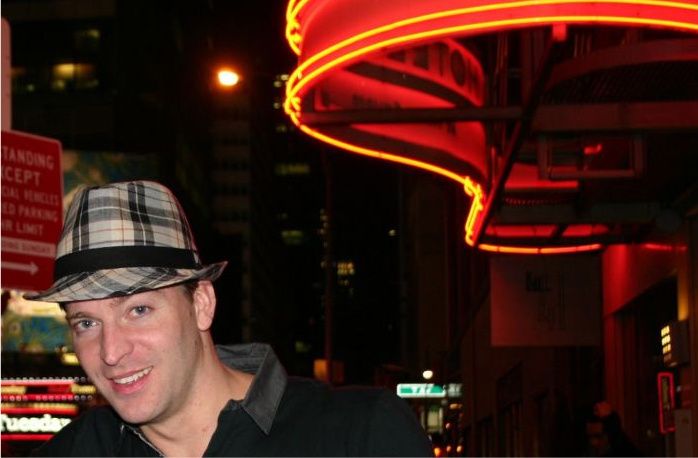 On Saturday night, I went to see
Million Dollar Quartet
, a show I have been dying to see for some time, since reading about it touring in the Midwest. One of the reasons I was aware of it is I am a big fan of Levi Kreis, an amazingly talented singer/songwriter whose albums are part of my collection, and have been wanting to see him performing live, and heard he was doing this show. It is story of a fabled night in Memphis, when four great stars, Elvis Presley, Johnny Cash, Carl Perkins and Jerry Lee Lewis were in the studio with Sun Records founder Sam Phillips on December 4, 1956.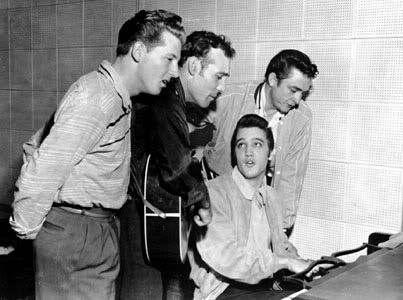 The show opens with Carl Perkins, played by Robert Britton Lyons, arriving at the studio and playing Blue Suede Shoes. Lyons does well, but I have to admit although I know some of Perkins music, I know nothing of him otherwise, so it was easy to buy into the characterization offered by Lyons. He was joined by Johnny Cash, played by Lance Guest, who does a really nice job with the role. His voice is perfect to play Cash, whose subdued personality Guest portrayed very well. Next Jerry Lee Lewis explodes on the stage. Lewis, a bit of a bumpkin from rural Mississippi with tons of swagger, is played incredibly well by Levi Kreis. Next up we have Elvis Presley, with Eddie Clendening playing him. As Elvis was a caricature of himself for much of his career, Clendening is in the unenviable position of playing a man larger than life, while still seeming human. With Presley comes Dyanne, Elvis' date, played by Elizabeth Stanley. She seems more of a plot device than a real person, although Stanley imbues her with more nuance than I suspect is on the page. And, finally, there is Sam Phillips, founder and driving force behind Sun Records. Phillips, played by Hunter Foster, is a vivacious character, at times strong businessman, while at other times has the finger on the pulse of the music public.
If I was to fault anything in this extremely entertaining show, it would be the book, which is a bit on the weak side. It seems there is so much more to tackle, yet the storyline is somewhat light, more present to tie the songs together than to give a greater understanding of the characters. What it might lack in depth, it certainly captures the charm of the characters and scene. What the actors have, they play well, so I think they are more than capable of more. But there is also the music, that glorious music. The score includes
Blue Suede Shoes
,
Real Wild Child
,
Matchbox
,
Who Do You Love
,
Folsom Prison Blues
,
Sixteen Ton
,
Long Tall Sally
,
Peace In The Valley
,
I Walk The Line
, and so much more.
Before I continue on, I should make sure you know this. If you are anywhere near the Nederlander Theater - 208 W. 41st ST, NYC - get there right now. Buy a ticket, and just try to sit in it quietly, cause it ain't happening. You will move, bop and groove, and eventually, no matter how hard you fight it, you will be on your feet screaming for more. From stirring solos to intricate four-part-harmonies, your heart will skip a beat with the every hint of more music.
All the actors are good, but Levi really stood out with me. His character is really made up of the boldest strokes, and Levi uses it well to paint a vivid and glorious picture of Jerry Lee Lewis. In an impressive move, all the actors play their own instruments, and again Levi shines, from his sitting at the upright piano playing for the others to his laying back with his outstretched arms never missing a note, he captures the kinetic and barnstorming charisma of Jerry Lee Lewis to a 'T'. In fact, his performance alone would be worth the price of a ticket, but there is also other stellar turns on that stage, so get your ticket and be ready to rock!
After the show, I made my poor defenseless sister and brother-in-law wait outside, because I had waited years to see Levi Kreis, and I wasn't going to let this go. He was, of course, the last actor to come out of the theater, and he was so kind and gracious to my slightly babbling fool gig. He signed my program and stopped for a picture. [
see below
] I told him how much I enjoyed the show and his performance. And that I am a fan, and even wrote about him on my blog. He was kind enough to say he had heard about Soundtrack to my Day, his publicist had sent him links! That certainly made my night!