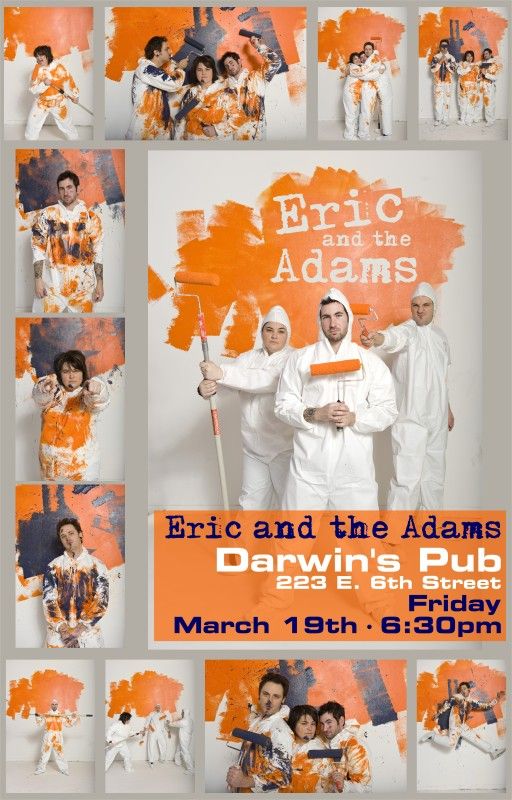 I got an email update from Eric & the Adams and just felt the need to share it, cause it made me laugh, and just made me happy.
Eric and the Adams are heading to Darwin's Pub in Austin this week during the big SXSW/Red Gorilla Music Fest extravaganza! We are super excited and even got asked to do another show at Touché just down the road on 6th St (Thursday, 5pm). We will be filming and updating our twitter accounts (
@ericandtheadams
,
@realeric_himan
,
@musicjunkie11
,
@angelsadventure
) and
Facebook
pages. We even did this fun photo shoot and you can see all the funny behind-the-scenes extra stuff in this video I made for you:
After Austin, I will be breaking off to perform solo-acoustic for a few tour dates in the southwest. I will be traveling on:
Tuesday, March 23rd, San Antonio: The Foundry, 8pm
Wednesday, March 24, Tucson: Bentley's Coffee and Tea, 8pm
Thursday, March 25, Scottsdale/Phoenix: BS West, 7-9pm
Friday, March 26, San Diego: Bourbon Street, 7-9pm
Saturday, March 27, Riverside, CA: Menagerie, 8:30pm-10:30pm
Details can be found on this FB event
here
.
April has the band playing a mini-Oklahoma tour through Stillwater, Oklahoma City, and Tulsa. Check them out at our website
here
. I'll be swinging solo through Sarasota, FL, Collegeville, MN, and Galveston, TX. More tour dates up soon.
~Eric