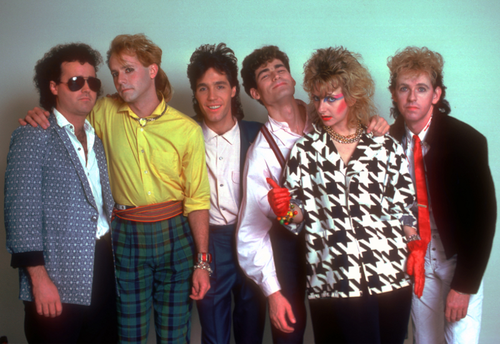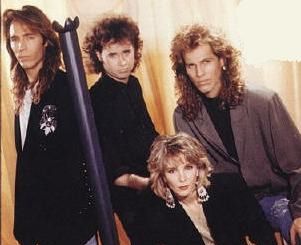 Top: Original Animotion, bottom: Animotion version 2.
In 1984, four members of the recently defunct band Red Zone decided to keep working together. Lead singer Astrid Plane, keyboardist Paul Antonelli, bassist Charles Ottavio, and drummer Frenchy O'Brien formed the New Wave band Animotion. They added lead singer/guitarist Bill Wadhams as well as lead guitarist Don Kirkpatrick. The sound was guitar-driven synthesizers, with Plane and Wadhams sharing the vocals. They released their self-titled debut album in late '84. The following year, a single from the album,
Obsession
, brought the band international success and became the band's first Billboard Hot 100 Top Ten single, landing at #6.
The follow-up single,
Let Him Go
, also made it into the Top 40, making it to #39. Again there was the patented New Wave sound, with the Synth creating the rhythm, and Plane singing the duet with Wadham.
After an unsuccessful album in 1986, Plane married bassist Ottavio and left the band, as did Wadham in 1987. Actress/dancer/singer Cynthia Rhodes, known for the film
Dirty Dancing
(and in 1989 would marry 80s giant Richard Marx), replaced Plane as female lead, and Paul Engemann took over the male lead. The recorded a second self-titled album, and had a hit with
Room To Move
in 1989. The popularity of the song was helped by it's appearance in the film
My Step-Mother Is An Alien
. The song rose to #9 on the US Pop chart.
Unfortunately, this did not help the album become a success, and the band broke up shortly thereafter. In 2001, the original line-up reunited for a radio concert in Los Angeles, and have been playing together off and on since. To find out more about the band, click
here
.