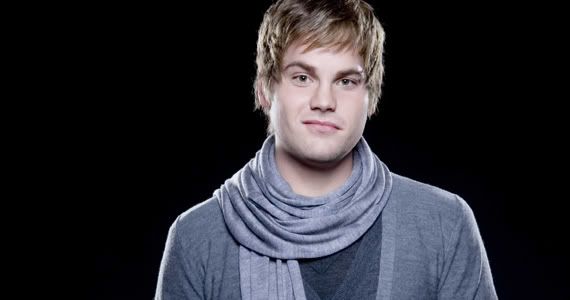 The video below will begin playing once it has completed loading.
Last Wednesday, and again this Wednesday night, Canadian singer Theo Tams performed live in Toronto at a space called The Supermarket. As the regulars here know, I am a big fan of Theo. In my humble opinion, he is clearly the most talented man to come out of the Idol franchise in North America. Obviously, fans of some of the others might disagree, but I think Theo has the voice, musicianship, and interpretive skills that are unmatched. So I am posting a video from the most recent show, and thought I would share them with my readers.
The video of Theo starts at about 02:30 and runs for 30 minutes. I've watched several times, and just love it. Theo plays
Wait For You
, his last single. Then he plays
Broken
, a song from an out-of-print EP he made in 2005, and one of my new favorite songs. Then comes a lovely version of Regina Spektor's
Samson
. Then there is
These Clean Walls
, an achingly beautiful new song written by Theo recently. That is followed by an Theo-tastic version of Lady GaGa's
Bad Romance
. Then comes the first single he co-wrote from his debut,
Lazy Lovers
. He ends with a cover of Missy Higgins'
Where I Stood
, a haunting version that actually brought a tear to my eye when I first heard it.
There is a commercial at the beginning, and then it goes to the concert. Once that is over, you can use the slider below the video to move to 02:30 and see Theo starting the show. Once you see Theo, you can click on the full screen button on the right below the video, sit back and enjoy.
Watch this show and more at SyncLive.com
You can order your copy of
Give It All Away
from Amazon
here
. It is an import, so it costs a more than usual, but I bought it and thought it is worth every penny. For my money, it is one of the best Idol debuts, certainly in North America, and possibly the world. Of course, your mileage might vary, but for me, Theo is the real deal. You can follow Theo on Twitter
here
. This morning on Twitter, Theo announced his next single will be
Manhattan Blue
! So, my Canadian friends, time to start making the requests to your favorite radio stations.