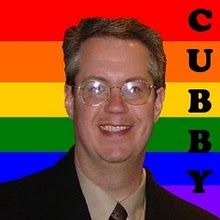 Left to right: Cubby & Jason Shaw
I am very pleased to welcome two new followers here at
Soundtrack
, well, really one old friend and one new.
Cubby
has been around for a while, and is now back. I hope we get to hear much from him, for he is a great guy. He hails from Ohio, and always has something interesting to add to any conversation.
Jason Shaw
is a new friend, one I met on Twitter (@jason_shaw) and I found my way to his blog,
The Seafront Diaries
. Check it out
here
. He also works for several other websites writing news stories and editorials, including Gay World News and the Gay Agenda. For links to his work there, check out
GWN
and
TGA
. Jason is from Brighton in the UK. Jason was also kind enough to feature this blog on the Best Gay Blogs site, find it
here
.
As tradition dictates, I enjoy welcoming people to the group here with some music that is part of the soundtrack to my day, music I like to listen to all the time. So today, I'd like to offer a
New Beginning
by Stephen Gately, a gifted performer and a adorable out and proud gay man who passed away five months ago. RIP Stephen, I still listen to your music and love it. And Cubby, here is to new beginnings.