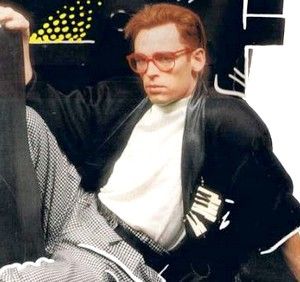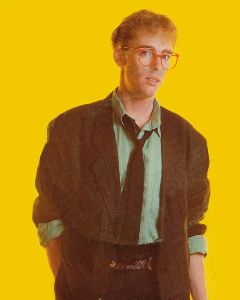 With his trademark red-rimmed glasses and often wild hair styles, Jimmy McShane took the lead for the group Baltimora in 1984, having been recruited by producer/musician Maurizio Bassi, mastermind behind the group. Being Irish didn't stop the Italian from hiring McShane, a dancer, for the group based in Italy. Bassi made him the frontman of Baltimora. In the Summer of 1985, they released
Tarzan Boy
, a zany, crazy dance song, and it swept the world. It reached #13 on the Billboard Pop chart, and played in every club that opened its doors.
A 'fun' fact about that was although McShane is shown singing in that video, it was not his voice. Bassi wrote, produced, played keyboards, and sang the lead in the studio, but always thought McShane looked more like a front man, so cast him in the video. Milli Vanilli anyone? Apparently, McShane would have killed on RuPaul's Drag Race, breezing by the 'lip synch for her life' part. No worries, for they knew the score. Their second single,
Living In The Background
, had moderate success, breaking the Top 100 to #87 on the Pop chart. I will say if you listen to the following video, the accent sounds similar to the
Tarzan Boy
accent, more Italian than Irish, but I believe they only admitted to the 'bait & switch' on the first song.
The third single was released in early 1986,
Woody Boogie
, met with some European success, but did not get a peek at the charts in the US. In fact, the Swiss and Dutch charts would be the last time they would be on any chart at all.
The most interesting thing about the fourth release from the
Living In The Background
album was
Jukebox Boy
, a rather generic song that did have an interesting video. Not interesting enough to get it on the charts, but interesting enough for me to post now. LOL
Baltimora released a second album in 1987, but it went no where. Shortly thereafter, they disbanded. When used in a Listerine commercial in 1993, a remix of
Tarzan Boy
made it into the Billboard Top 50, the last gasp of the band. Sadly, in 1995 Jimmy McShane passed away due to complications from AIDS.