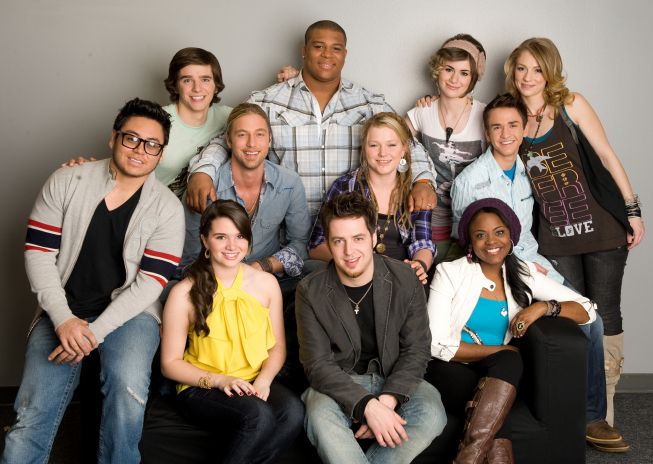 Front row: Katie Stevens, Lee Dewyze, and Paige Miles. Second row: Andrew Garcia, Casey James, Crystal Bowersox, and Aaron Kelly. Top row: Tim Urban, Mike Lynche,Siobhan Magnus and Didi Benami.

This recap was originally written to appear on Rickey.Org.
What started as a Teen Idol theme morphed into an iTunes #1 theme, but either way Miley Cyrus is the mentor. The judges chat, Simon half-hearted apologizes to Kara, and Crusty spends too much time looking down Simon's shirt. And Simon explains leaving tonight means missing out on the money from the tour, and it will be devastating to their career. The video package comes on for the mentor, talking about her conquering all-media, and the seventeen-year-old is excited about being a mentor.
Lee Dewyze
,
The Letter
[1967 song by The Boxtops, with recently deceased lead singer Alex Chilton] Lee puts a bluesy spin on the rock standard. He is more on key than usual, but still has a tough time holding notes. It is not something that would be released as contemporary music, but he was less pitchy than normal. I would say that was his best performance to date, but could use a bit less aimless on the stage. The judges are doing backflips, save for Simon.
Paige Miles
,
Against All Odds (Take A Look At Me Now)
[1984 song by Phil Collins] Miley calls her out as pitchy, but really likes her. Wow, on the open, she is a pitchy mess. She seems very nervous. But she recovers midway through the song, and belts it out. Randy hates it, Ellen thinks she is pretty, Kara thinks it is the worst of the season, and Simon tries to be nice, but thinks she is gone. She handles it well.
Tim Urban
,
Crazy Little Thing Called Love
[1980 song by Queen] One can't help but think this is a mistake, and what could save Paige. And Miley thinks he is great and gives him two thumbs up. Wow, he stays in tune and slides on the floor. The judges take him to task, and tell him he has no chance to win, and is silly and irrelevant. Hey, judges, it was not pitchy, gotta give him something.
Aaron Kelly
,
I Don't Want To Miss A Thing
[1998 song by Aerosmith written by Diane Warren] We get to Aaron, and we discover he has laryngitis and tonsillitis, and a huge crush on Miley, who thinks he has an incredible voice. He gives the rock power ballad a country feel. Wow, he is making this work. Sure, there are a couple of odd notes, but considering the diagnoses, I am impressed. The judges are loving him, letting him go on the lightly flawed vocals. Crusty pulls out the Archie reference.
Crystal Bowersox
,
Me and Bobby McGee
]1971 song by Janis Joplin, written by Kris Kristofferson and Fred Foster] Miley loves her, and gives her a few suggestions that are actually good. Crystal listened, and sounded great. Great vocals. Again, however, I don't know how she works in today's music. The judges are crazy about it, but Ellen wants a bit more personality to shine through, and bit of connection to the audience, and Crusty sits on the carpet with her to try his best to help.
Michael Lynche
,
When A Man Loves A Woman
[1966 song by Percy Sledge] Miley loves Big Mike, and Crusty calls him the resident Casanova. He does a nice job, rather unexciting for me, and tended to go a bit sharp on the notes. He is getting good, but safe reviews. The term loungy comes up. I have thought that from the start.
Andrew Garcia
,
I Heard It Through The Grapevine
[1967 song by Smokey Robinson & the Miracles] With Miley, he struggled with the lyrics. Wow, he is being swallowed alive by the song, and losing pitch. This is just not a good thing at all. Randy says it wasn't good, Ellen tends to agree. Kara and Simon think it was not good at all. Simon even realized he sucked the soul out of the song.
Good news, Glee is on in three weeks. And Rachel is singing Madonna, I am happy
.
Katie Stevens
,
Big Girls Don't Cry
[2006 song by Fergie] The seventeen-year-olds chat a bit, but there doesn't seem to be a great deal of warmth. I wasn't a big fan of the original, but think this is fine. Randy liked it, but saw the pitchiness. Ellen loved it, so did Kara, although she also thought there was 'mad pitch issues' and Simon thinks there is marked improvement, but still sees country in her future. Mixed reviews, but should make it through.
Casey James
,
Power of Love
[1985 hit for Huey Lewis and the News] Casey automatically insults Miley but saying he was a fan of her father, not her. She mentions the eye contact, and he gets it. And he gets a hug. Casey is singing well, adding a but os southern blues to the song. I think he rocked it. Not quite as good as Crystal, but very good. The judges are gushing over him. Randy, Ellen and Kara loved it, and Simon hated it.
Didi Benami
,
You're No Good
[1975 hit for Linda Ronstadt, originally recorded by Betty Everett in 1963] I love the Ronstadt version, and remember it dearly, so this scares me a bit. She talks to Miley about nerves, and I can't think but hearing that before going on can't be good. Crusty mispronounces her name and laughs. This is not starting well. The key is wrong, and is kinda cabaret, to quote Simon. Randy didn't love it. Ellen was disappointed. Kara thought it was overly dramatic, and Simon wasn't happy. She wanted to try something different, and have some fun.
Siobhan Magnus
,
Superstition
[1972 song for Stevie Wonder] Siobhan is sporting some wild hair, so we can only imagine this will be something wild from her. She is singing it really well, but again, sounds dated, not timely. I could do without the screaming note every time. The overuse makes it very unspecial. Well, Miley gives her the thumbs-up from the audience. The judges, save Simon, loved her, and he thinks she wasn't relevant and everyone is lagging behind Crystal.
OK, I think the bottom three are clear, Paige, Tim and Andrew. Any of them might be going home, although I would suspect
Paige
or
Andrew
. But none of those three would be a shock. A couple will be skating by because of the failure of others. Yes, I am speaking to you, Didi, Katie, Big Mike and Lee. I would think Siobhan, Crystal, Aaron and Casey are safe tonight, and preparing for next week.