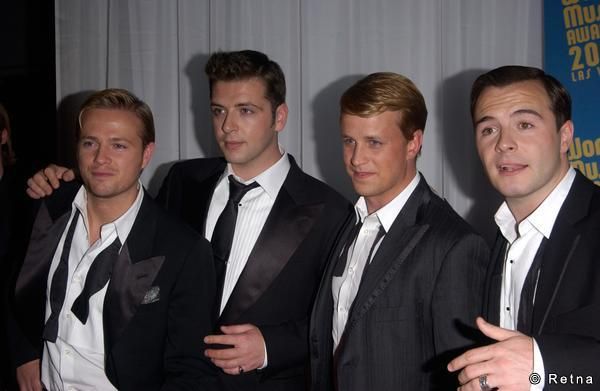 In 2004, Westlife released
Allow Us To Be Frank
, an album of jazz standards, songs inspired by and/or sung by the Rat Pack. I have long ago confessed my affection for Westlife, and especially member Mark Feehily, who came out as a gay man and did so with dignity. Feehily, along with bandmates Shane Filian, Kian Egan and Nicky Byrne, prepared a loving tribute to the music and the era itself. I enjoy the album immensely.
The first release from the album was a song written in 1960, music by Jimmy Van Heusen and lyrics by Sammy Cahn.
Ain't That A Kick In The Head
was first recorded in 1960 by Dean Martin, and conducted by Nelson Riddle, it became closely identified with the era.
Smile
was a song originally used as an instrumental theme in the soundtrack for the 1936 Charlie Chaplin movie
Modern Times
. Chaplin composed the music. There is some discussion as to who wrote the words, with John Turner and Geoffrey Parsons often mentioned. The sheet music was sold with the lyrics accredited to Chaplin. The song was originally sung by Nat King Cole, charted in 1954.
Fly Me To The Moon
was a popular standard song written by Bart Howard in 1954. It was titled originally
In Other Words
Frank Sinatra recorded the song on his 1964 album
It Might as Well Be Swing
accompanied by Count Basie. The arrangement by Quincy Jones, and that version went on to be thought of as the gold standard.
Mack the Knife
or
The Ballad of Mack the Knife
, originally
Die Moritat von Mackie Messer
, is a song composed by Kurt Weill with lyrics by Bertolt Brecht for their music drama
Die Dreigroschenoper
, or, as it is known in English,
The Threepenny Opera
. It premiered in Berlin in 1928.
Mack the Knife
was introduced to the United States hit parade by Louis Armstrong in 1956, but the song is most closely associated with Bobby Darin, who recorded his version at Fulton Studios in New York City in 1958. In 1959 Darin's version reached number one on the Billboard Hot 100 and number six on the Black Singles chart, and earned him a Grammy Award for Record of the Year.