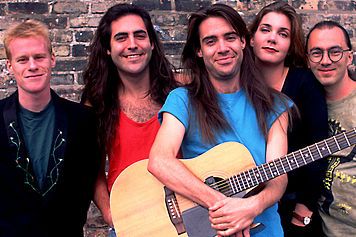 If there was a band that could define quirky in any dictionary, it would be Canada's Crash Test Dummies. There would be a big picture of lead singer Brad Roberts, with his Brendan Fraser looks and deep, rich baritone/bass vocals, a trademark of the band. Joining Brad was Ellen Reid, Dan Roberts, Mitch Dorge and Benjamin Darvill, having come together in the late 80s to play in Winnipeg clubs and grow together. In 1991, they released their first album,
The Ghosts That Haunt Me
. Their first single,
Superman's Song
, shot up the Canadian chart, landing at #4.
But it was the second album,
God Shuffled His Feet
, that made a name for the band, both north and south of the Great Lakes. The album soared up the US chart, landing at #9 on the strength of the first single, the unusually named
Mmm Mmm Mmm Mmm
. And that isn't where the unusual stops, for the song tells the stories of some children in odd situations, both isolated and suffering. And yet the song still made it to #2 on the Billboard single chart in 1993, a remarkable testament to strong sound and musicality of the song.
The third single from the album was one of my favorites,
Afternoons & Coffeespoons
. Inspired by a t.s. eliot poem, the uptempo song takes a riff and runs, and takes a philosophic look at the brevity of life, and many of the parts of our lives. While it never broke into the Top 40, it was a hit on college radio.
The title song from the album was the fourth release. It is another philosophic exploration. the clarity of Brad's tone and delivery allows for the weight of the song to be given a the right musical feel, without becoming heavy handed.
The next album flirted with the US chart, but made no real impact. After a couple more albums, they parted ways with the label, and with that freedom returned to a more acoustic sound for the band. They are still together making music. You can find out more about the band at their official website
here
.