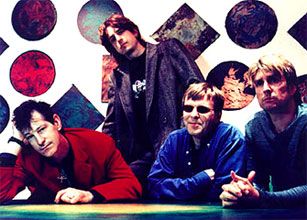 In 1979, college friends Cy Curnin and Adam Woods rounded up Rupert Greenall, Tony McGrail and Charlie Barret to form a group in London, calling themselves
The Portraits
. Like most of the day, their sound was all New Wave and synthesizers and hooks. After two failed singles, McGrail left in 1980 and they brought on Jamie West-Oram and changed the bands name to
The Fix
. Their work together on some music for a small label took them to a major label deal, and started them on a path to 80s stars, following a spelling change to their name,
The Fixx
.
In 1982, they put down their first album, and shortly thereafter bassist Barret left the band, replaced by Alfie Agius, who stuck it out for about a year. That first album,
Shuttered Room
, also provided them with their first taste of success in the US, with the single
Red Skies
, one of my favorite songs, scoring #13 on the Mainstream Rock chart.
1983 saw the second album released,
Reach The Beach
, and their first Top 20 hit,
Saved By Zero
. This brooding song had a dark texture, almost an
Oingo Boingo
feel, and is my favorite track by the band. It hit #20 on the pop chart, and #9 on the rock chart.
They followed up that song with another from that album,
One Thing Leads To Another
. With the crisp guitar leading the charge, the song was a real change from the last single. Gone was the dark and moody, and in came the clever hook and intriguing rhythms, pushing emotion to the side to make a fine dance track. The song made it to #4 on the pop chart, and #2 on the Mainstream Rock chart.
The first cut off the 1984 album
Phantoms
continued the success, scoring #15 on the pop chart, and #1 on Mainstream Rock.
Are We Ourselves?
might have opened with a moody wind effect, but it owed more to
One Thing Leads to Another
than the other songs. They returned to the uptempo, with the hooky chorus enabling little New Wavers across the country to herk and jerk themselves across the dance floor. It also had the work of a new bassist, Dan Brown.
The band had some minor success in the subsequent years, but never came close to replicating the Top 20 hits they had. By 1992, they had been released from their label, and have gone through a series of small labels for their music. Brown stayed with the band until 1994, only to return again in 2008. The band still plays tours, and has plans to release their 10th album later this year. You can find out more about the band at their official website
here
.