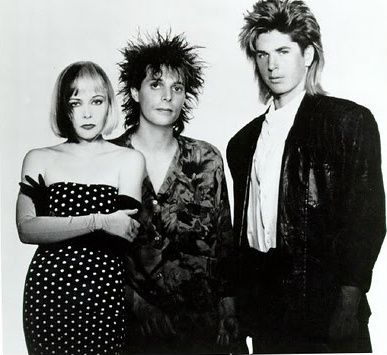 I first heard them in 1983, fand was just crazy about the sound. Terri Nunn, John Crawford, and David Diamond, Dan Van Patten and Chris Ruiz-Velasco were a strong part of the American New Wave front, having released
Pleasure Victim
in 1982. With synthesizers blaring, Crawford's disinterested vocals and Nunn's soaring voice, the band broke out with their first hit,
Sex (I'm A...)
, which was quite controversial at the time, and was even banned by some radio stations. It really just put to music a popular theory at the time, that women needed to be part wife, part mother and part prostitute in order to please a man.
They followed up that song with the slightly frantic
Metro
, which pulsed with the vibrancy of Nunn's vocals. The song and video was filled with a woman's strength, a big part of the early 80s music.
The next release from
Pleasure Victim
was
Masquerade
, a pop confection with a video that screams out the period, with the styling and content driving the time.
In 1984, they released
No More Words
, the first single from the
Love Life
album. Again, the angry refrains were tailor-made for Nunn's voice, who rails against broken promises.
They went on to have a big hit in 1986 from the movie Top Gun.
Take My Breath Away
was a good song, but not really in keeping with their New Wave style. Although the song sold big, the album did not, and in 1987, the band broke up.