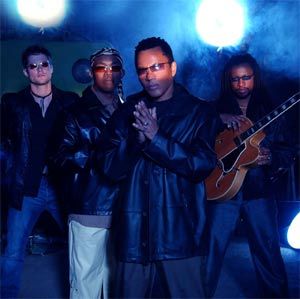 They started with success in 1990 in The Netherlands, but the American R&B/Dance band had their roots in the US, with Americans Jimmy Helms and George Chandler; with Jimmy Chambers, from Trinidad, and multi-instrumentalist William 'Willy M' Henshaw. They blended R&B, Dance and New Wave to make a delectable sound. They seemingly conquered the world in 1990, when
I've Been Thinking About You
soared up the charts to #1 in the US, Australia, Netherlands, Italy, Sweden, Germany, Austria, and Switzerland. They made it to #2 in Israel, Norway and the UK. The driving beat and infectious
They followed it up with
A Better Love
in 1991, with a bit less success. It went into the Top 20, maxing out at #18 on the US Pop chart. It was not quite as catchy as the first, but a lovely melody nonetheless.
You Bring On The Sun
was a return to form, with the driving beat combined with a bit of jangly guitar to score on the charts across Europe in 1992, but not in the US. I really kinda like this one a lot.
I love the video for
Come Back
, the 1995 release that didn't do particularly well on any of the charts. Their trajectory had stalled, and soon the band called it a day.
They regrouped in 2003 with a couple of changes in the lineup, but never did regain their ground.