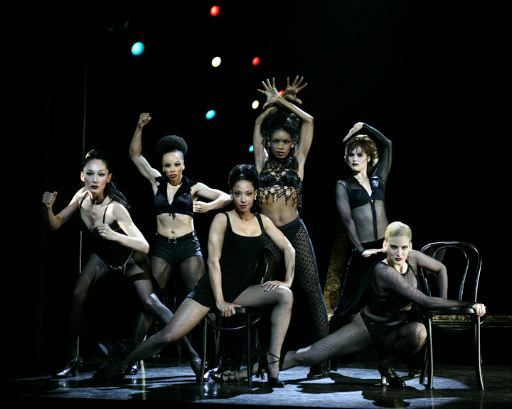 In 1926, a play written by journalist Maurine Watkins made it to Broadway. It was based on an actual murder case, thought to be so scandalous Watkins used her notes for the script. Well, 49 years, and the musical version made it to Broadway, under the choreographic and directorial eye of the amazing Bob Fosse. With music and lyrics by John Kander with lyrics by Fred Ebb, it defied the usual musical route, taking it's cues from vaudeville and the rule-breaking theater of Bertold Brecht in the 20s and 30s. Speaking and singing freely to the audience, there is no 'fourth wall' to the show, drawing the audience in while also blurring the lines between yesterday and the present. In the original Broadway production, the lead roles were played by Gwen Verdon and Chita Rivera, who were simply extraordinary.
The story focuses on a couple of criminals, Roxy Hart and Velma Kelly. Nightclub star Velma is a convicted murderer, having killed her husband and sister after finding them in bed together, a crime and trial that commandeered the headlines. But first she sings
All That Jazz
to welcome everyone to the audience. The clip is from the 1997 revival of the show, starring Bebe Neuwirth, who won a Tony for the work.
Soon chorus girl Roxy is arrested for killing her lover, stealing Velma's thunder. Although Roxy has convinced her husband she killed a burglar, not everyone is buying it. But they are certainly not the only convicted murderers in the prison, and it seems each one has a story and a reason for doing it. They tell their stories in
Cell Block Tango
. In 2002, the movie version was released, with deft direction from Rob Marshall.
Matron 'Mama' Morton runs the ladies prison, and she runs it with an iron fist and a game plan. She sets up some simple rules, and explains them in
When You're Good To Mama
. In the movie, Mama Morton was played to perfection by Queen Latifah.
Billy Flynn is the lawyer for both of the ladies, and is a shrewd man, handling the story both in the court and in the newspapers. He is also handsome and dashing, and explains why he does what he does in
All I Care About
. In the original Broadway production, Billy was played by Jerry Orbach, better known at this point for his role in
Law & Order
.
To explain how Billy will get an acquittal for Roxy, he explains all it takes is a little
Razzle Dazzle
. In the film, handsome Richard Gere played Billy, and Renee Zellweger played Roxie.
Indeed, Billy delivers, but as they are leaving the courtroom, word breaks on a new crime, and we all know Roxy's fame is over, and she will be returning to the nightclubs, sharing billing with Velma.