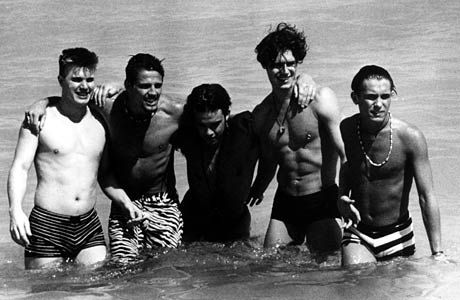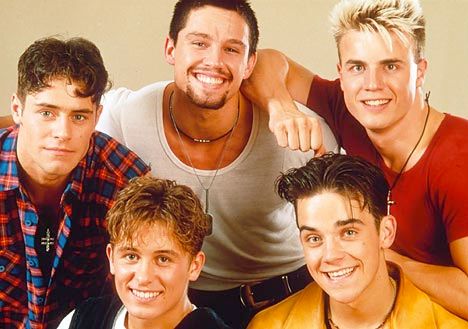 I had decided it was time for me to feature the first British boyband,
Take That
, but, honestly, was running a bit out of gas with what songs to use. So, I checked in with my 'resident'
Take That
fan, Sue, who offered up a few titles for me to check out. But before Italk more about the process, let's learn a little about the band. Gary Barlow, Mark Owen, Howard Donald, Robbie Williams and Jason Orange were cast in a 'New Kids On The Block' style boyband after an exhaustive search throughout the UK. By 1991, they released their first single,
Do What U Like
, Which barely made it on to the charts, topping out at #82 on the UK charts. It wasn't until 1992 they had their first Top 10 hit, a remake of the old Tavares song,
It Only Takes A Minute
, which went to #7. But the following year, they finally made it to the top of the charts with the song
Pray
, a traditional R&B-style ballad.
They followed it up with their second #1,
Relight My Fire
with the amazing LuLu featured with her distinctive vocals. Yes, twenty-six years after taking the world by storm with the song
To Sir With Love
, LuLu was back on top with the young boyband.
Finishing off a string of four #1UK hits in a row, they did a throwback disco-style song with
Everything Changes
, which topped the chart in 1994. It also featured the lead vocals of Robbie Williams, the energetic and charismatic member of the group.
By the middle of 1995, the five-man group was down to a quartet, as Williams decided to embark on a successful solo career. And while the remaining boys opted to venture forward together, it was not for long, as they decided to call it quits in April of 1996.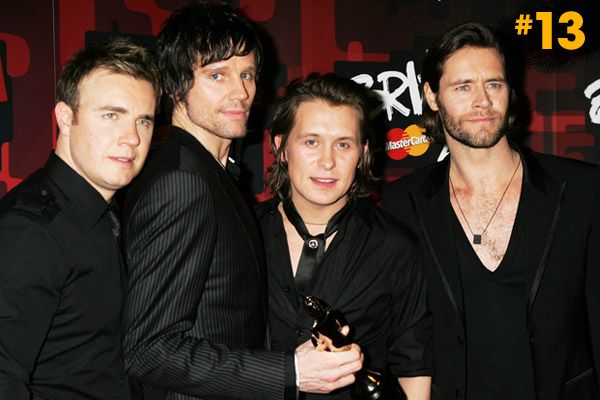 However, much like the decision to keep going with Williams, the decision to retire was not set in stone, as Gary Barlow, Mark Owen, Howard Donald and Jason Orange reformed in 2005 and released a new album and single to celebrate that in 2006. The first single returned them to the top of the charts, as
Patience
hit #1.
Proving the success of their return to music,
Beautiful World
, to be no fluke, the second single,
Shine
, hit the airwaves in 2007. And, for the second single in a row, they established a new sound that was less 'pretty' and had a bit of a rockier edge.
Their popularity has continued on since the reformation, with another #1 with
Greatest Day
, a #2 with
Rule the World
, and a Top 20 with
Up All Night
. They are currently working on material for an album to come out at the end of the year, and in a recent interview, Robbie Williams stated that he and the boys had made up, and he would look forward to working with the band again soon, although no one knows when that will be. For more about Take That, check out their official website
here
.