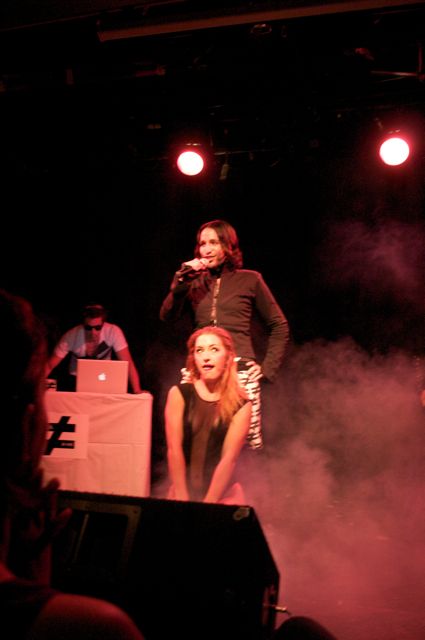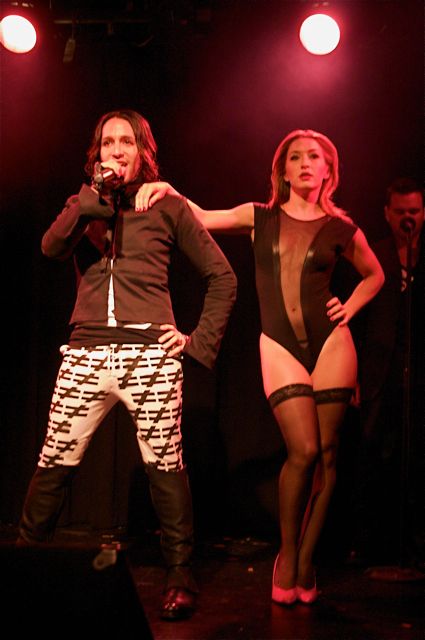 Top: SIRPAUL. Bottom: SIRPAUL with Jessie Riley.
It should come as no surprise to anyone, but I am a huge fan of live music. So when tickets went on sale for a SIRPAUL show in New York City, I reached for my credit card and bought my tickets. There was little that would have stopped me from catching my first SIRPAUL concert, and June 26, 2010, was blocked off the calendar. I knew where I was going to be.
I've been a fan of SIRPAUL for a couple of years now. I think the first album I downloaded was the 2006
Dismantle
, and it is still a favorite. I love his song
Addicted
, which remains special to me. It's like I heard that, and I've been hooked. Don't get me wrong, I love them all. But there is always a soft spot for your first, right?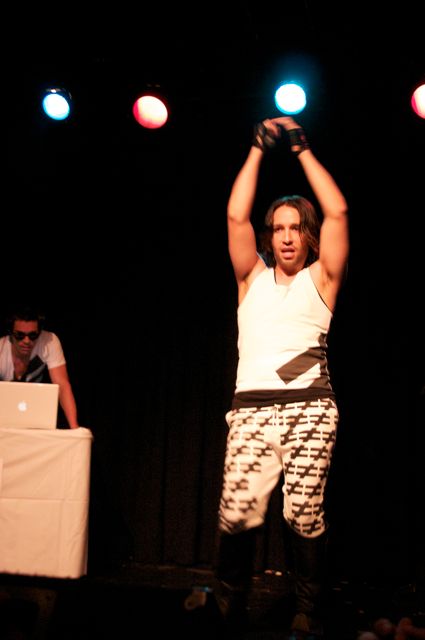 SIRPAUL with DJ Alex Lauterstein
Well, SIRPAUL did not disappoint. In fact, despite the fact I went in with ridiculously high expectations, I was nothing short of amazed. From showing up and being brought to my seats by Paul Peterson, SIRPAUL's partner, to find they were rather spectacular, so close to the stage I swear if I smiled, SIRPAUL could count my crows feet. I was sharing a table with my niece, Mandy, and Rickey Yaneza, blogger of the world renown
Rickey.Org
. We were excited to get out goodies - the
≠
button we all immediately put on, the sticker, and the download card, entitling the bearer to a free download of SIRPAUL's latest,
Music & Me
.
SIRPAUL lays down music that is smart, musical and danceable. From the first song to the last, the 15-song show had me clapping my hands, singing along, tapping my feet, and chair-dancing like never before. Starting with sexy DJ Alex Lautenstein hiding behind the Mac and the gorgeous Jessie Riley are on stage with the
Intro/She's So Unusual
opening, to SIRPAUL taking to the stage and making
Killer
sound sweet yet deadly, complete with Jessie, the black widow in the video, I knew this was going to be something memorable. I could hardly keep still to take picture, let alone video, which I have to apologize for in advance for the Blair Witch style during some of it. But, in my defense, no one can keep still to this music. No one. And I have to mention James Contrino, SIRPAUL's cousin. Not only is he handsome, his voice blends beautifully. [And his partner Adam was really nice, too!]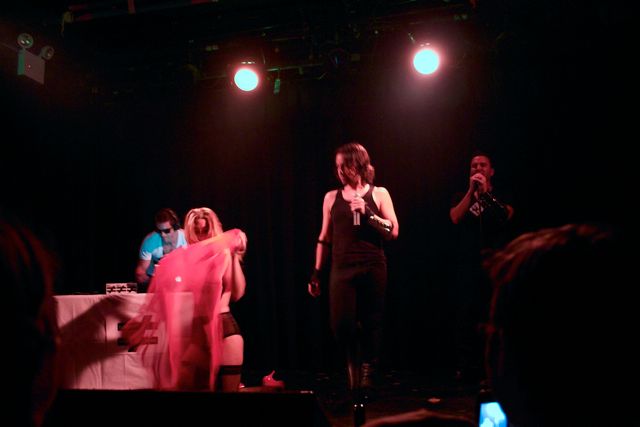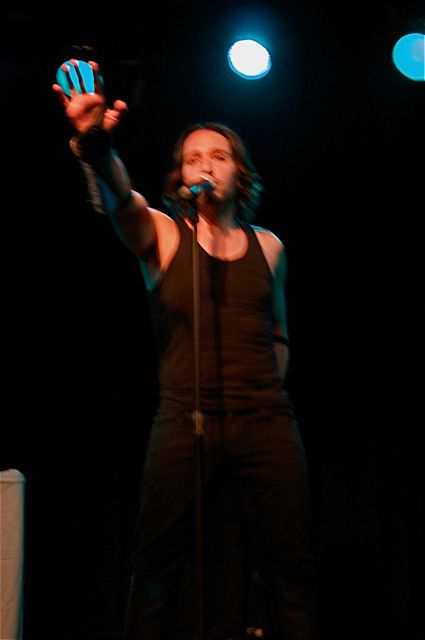 We come next to a block of songs from
Music & Me
, starting with
Digital World (Killed the Radio Star)
, a clever one about life in these electronic times,
Mistaken
,
Music & Me/Physical Attraction
,
Give it Up (Til Ya Get Enough)
and
Press Rewind/One More Time
. They are all great songs, better than most, if not all of what I hear on the radio.
Secret Love
from
Objectified
, was up next, and such a sexy song it is! Then back to
Music & Me
for
U
, an ethereal love song SIRPAUL dedicated to his partner, Paul.
Colors
was up next, another song from the new release, a hot ballad that reminds me a bit of YAZ.
Let Me Go
,
Objectified
, continues the electronica sound. Then comes the outstanding cut
Don't Stop (Break the Beat)
, from
Music & Me
, and we were treated to SIRPAUL & James being joined by SIRPAUL's talented sister, Cherylyn, adding even more depth and beauty.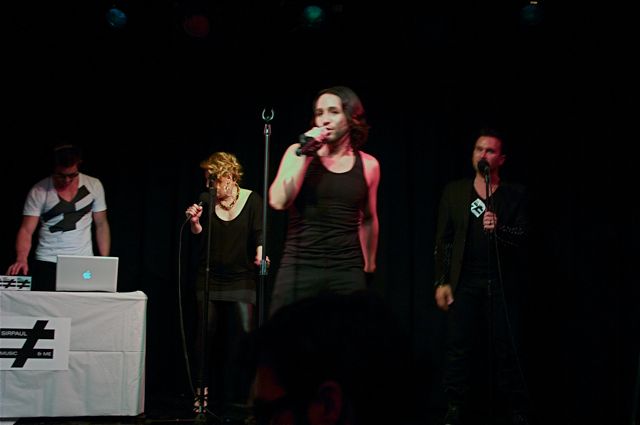 I have also had a long love affair with
Do U
, first as a single and then part of
Objectified
. What a rocking good time! And there is
Thrust 2010
, originally from an EP of the same name - kinda makes me sweat a bit, in a good way. He closed the concert with
Shine
from
Music & Me
. It is such a celebration of life and love, and brought everyone to their feet, dancing in the audience. Glorious!
So here is the video compilation of some of the songs I taped, along with a few pictures I took. Forgive my limited skill with the videocam, and revel in the great show SIRPAUL put on for an audience that loved every minute of it. After the show, Mandy turned to me and said 'if he has another show, I want to come!' I know I'll be there.
Stop by SIRPAUL's official site
here
, and comment if you feel so moved. You can find
Music & Me
on iTunes
here
. It is well worth the $9.99, and will be a valued part of your collection. And when the next show is announced, I'll race you all for tickets! And in case anyone missed it, here is me getting all fanboi-like to SIRPAUL, and him saying 'hi' to everyone here.