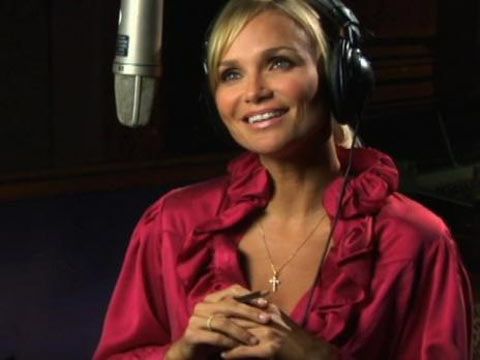 With a talent for being cute as a button or sexy as any woman living, Kristin Chenoweth has the vocal abilities that far outshine even her electric smile. Currently on Broadway in the show
Promises Promises
, Chenoweth first came to be known as five-year-old Sally Brown in the musical
You're A Good Man, Charlie Brown
in 1999.
My New Philosophy
For that performance, she won her first Tony Award. It is certainly not the last of those that have or will come to her. In October of 2003, she opened in a musical few knew too much about, an interesting take on the
Wizard of Oz
called
Wicked
. She co-starred with the magnificent Idina Menzel and together they blew the audience away night after night. Both Kristin and Idina were nominated for the Tony Award, with Idina taking home the trophy that night.
In 2007 she costarred in the whimsical and quirky
Pushing Daisies
, once again wowing audiences with her impeccable comic timing and astonishing voice. Her portrayal of Olive Snook brought her acclaim as well as the 2009 Emmy Award despite the fact ABC had canceled the show. Here she sings
Hopelessly Devoted To You
, originally from the musical
Grease
.
This year, the producers of
GLEE
were smart enough to snatch her up and give her a recurring character, April Rhodes. Although in her last appearance, she left with a rather determined attitude to make it on her own, I certainly hope she returns, for the enormity of her talent shone so bright in ever minute of her time on the screen, but perhaps never as greatly as when she and Will [Matthew Morrison] performed
One Less Bell To Answer/A House Is Not A Home
.
As I said in the opening, she is now appearing on Broadway opposite Sean Hayes in the Burt Bacharach/Hal David musical
Promises, Promises
. She also received attention when she wrote a response to a deplorable Newsweek article about gays not being able to 'play straight', using Hayes as an example. Her words, written by strong Christian woman sounded as clear and strong as any song she had sung to date, being a clarion bell for human rights. Here she is with an excerpt from the show, singing
I Say A Little Prayer
.
To learn more about Kristin Chenoweth, check out her official website
here
. You can also go to the official website for Promises Promises
here
, and maybe order your tickets to catch her live! You can also purchase her 2001 album release,
Let Yourself Go
, on iTunes
here
.