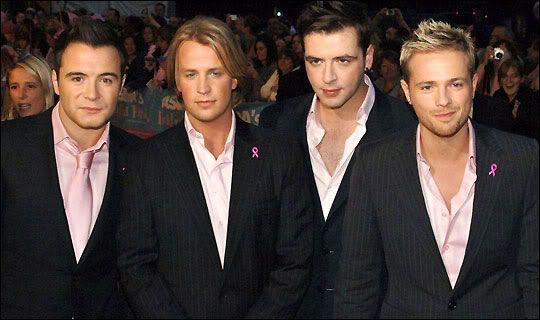 Left to right: Shane Filan, Kian Egan, Mark Feehily, Nicky Byrne.
I can tell you when I first fell for Westlife, and it was a long time ago, 10 years in fact. I remember hearing one song, and knowing it was over for me. They are purveyors of Pop, pure and simple. And I love me some Pop music! It is the only Westlife song I remember being played on the radio in the US, but it was enough to hook me. This is
Swear It Again
.
While they started with five, in 2004 they became four with the departure of Brian McFadden. Despite being a few decades removed from their target demographic, I buy all the albums and the DVDs, with a strong desire to see them live at some point. In 2005, Mark Feehily came out, announcing his relationship with Kevin McDaid, which continues today. He had the full support of Shane, Kian and Nicky, as well as the fans, which is fantastic. I continue to enjoy the music, including this song from 2009,
Something Right
.
Enjoy the online experience at their website
here
.