Doctor Who
is back after taking the holiday weekend off. In the 7th episode of the new Doctor,
Amy's Choice
. You can catch it tonight on BBC America, 9PM/8PM Central. The episode starts out a little sleepy - literally. It opens on a sleepy little hamlet and we find a Amy heavy with child, cooking for Rory, who sports a ponytail of a country doctor, caring for the elderly in the community.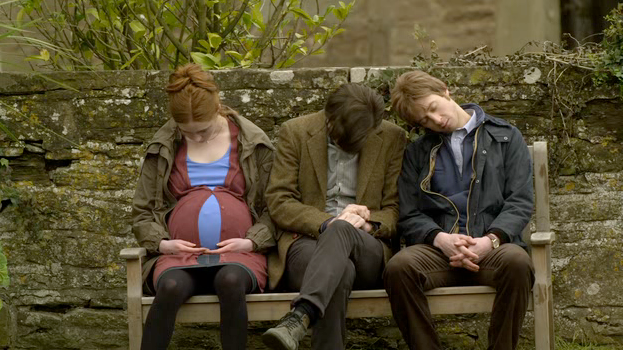 Soon they are joined by the Doctor, who seems confused, then irritated. They take a walk outside, and soon fall asleep on a park bench. They wake up on the TARDIS, and discover they have all had the same dream. They are joined by The Dreamlord, who tells them they are toggling between two worlds, one a dream the other real, and will have life-threatening situations in each. The trick will be to figure out which is the dream and which is real.
Soon they fall again, only to awake on the Earth realm, noticing something is amiss. The children are missing, and the elderly are gathering. They soon discover this is no ordinary band of retired renegades - they have an alien invasion on their hands.
Soon they wake up back on the TARDIS, only to discover they are without power and being pulled to a cold star, a frozen celestial body. As they draw closer, the temperature in the TARDIS drops, and they are not sure which reality is real, just that both could end their journey.
They keep switching back and forth, trying to figure out the reality and the dream. Time is drawing to a close, and the Dreamlord must have his answer. Will the Doctor save the day, or will it be, as the title suggests, Amy's choice? And given the choice, will Amy chose a world with Rory, or that of the Doctor?
To check out
Doctor Who
on the web, click
here
.