Originally posted on June 17, 2009, this was the first blog post of the topic 'Worth Another Listen' that was dedicated to a singular artist.
Back in 1987, a song hit the clubs that had everyone dancing. The song was
Boom Boom (Let's Go Back To My Room)
and it was impossible not to run to the dance floor. It was sung by Paul Lekakis, the stunningly handsome Nordic God. I ran out and bought the single, but had to wait to buy the CD,
Tattoo It
. But I did buy it first chance I got. I still listen from time to time, grooving to the sound of
My House
,
One Step Closer
, and others. From the coy
You Blow Me Away
to vibrantly sexy
You Know You Want It
, not to mention the beat-driven
Are You Man Enough
and
Tattoo It On Me
. This CD was meant to put a party in your pants - an easy feat if you took one look at the cover shots.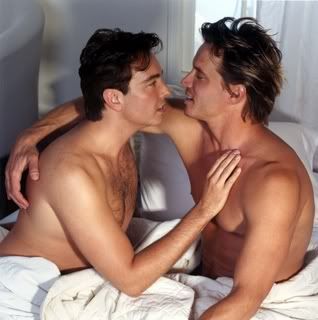 Paul went on to do movies - like
Circuit
and
Sex, Politics & Cocktails
- and a variety of shows in regional theater and Pride events around the world. And he still does music, having the singles
Let It Out
,
Assume The Position
and
(I Need A) Vacation
, all of which are in my collection. Just last year, I purchased a video collection of his songs, including a video shot to commemorate the 20th anniversary of
Boom Boom
. I also received a couple of signed photographs with the package, warming the cockles of, among other places, my heart.
Never particularly in the closet, Lekakis talked openly in the 90s about being HIV Positive, and continues to do work in that community. He has certainly kept himself in top shape, and looks even hotter now than he did when he first come on the scene.
You can find more pictures and information at Paul's
website
.