This is the second installment of my appreciation of the great Sade. As I said before, Sade has been long overdue on the blog. The group consists of singer Sade Adu, guitarist and sax player Stuart Matthewman, bassist Paul Spencer Denman, keyboardist Andrew Hale, and drummer Paul Anthony Cook, who has left the band. In 1984,
Diamond Life
was released, and spawned the singles
Your Love Is King
and
Smooth Operator
, and they both scored on the charts.In 1985, Sade released
Promise
with the single
The Sweetest Taboo
. Singer Sade Adu also had a single from the movie
Absolute Beginners
,
Killer Blow
.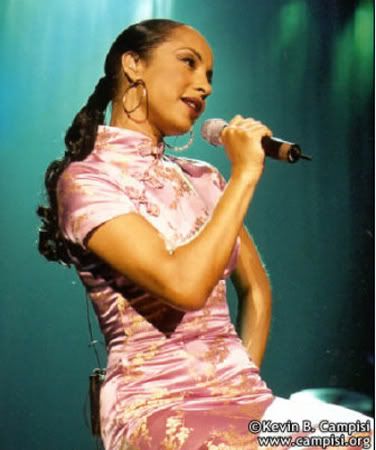 My favorite song is the haunting
Is It A Crime
, a 1986 single from
Promise
. It might not be the highest charting single from the group, but it has an aching and longing that still touches my heart 23 years later.
The next album released was
Stronger Than Pride
, the 1988 release that was #7 on the Billboard album charts. The first single,
Love Is Stronger Than Pride
, followed by
Never As Good As The First Time
, an airy and breezy song that played with rhythms and melodies like few pop songs ever have.
The second single was
Paradise
, another song with jazzy beats and an almost Brazilian feel, with a smooth Samba rhythm. It topped the R & B charts, and hit #3 on the Adult Contemporary charts.
For more information about Sade, I will have one more coming in the series. I am looking forward to the release of
Soldier of Love
on February 8, 2010. You can also check out the official website
here
.