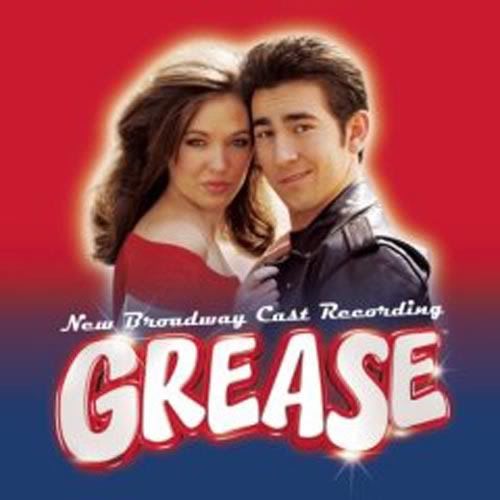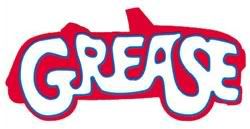 Clockwise: 1972 logo, the 2007 logo; and the 1994 logo.
Grease
originally opened on Broadway in 1972. The unknown show had come from Chicago to off-Broadway, and finally moved to Broadway in June of that year. The cast were relatively unknown, with Barry Bostwick making his debut as a leading man and ending up with a Tony nomination. And there was Adrienne Barbeau playing Rizzo, the 'bad girl with the heart of gold.' The show ran for over seven years, or record-setting 3,388 performances, the longest run in Broadway history at the time, only to be surpassed two years later by
A Chorus Line
. Throughout the run, cast replacements included Jeff Conaway, Marilu Henner, Peter Gallagher, Patrick Swayze, John Travolta, (director) Jerry Zaks, and Treat Williams. Richard Gere was an understudy for many roles in this production. It opened in London the following year, and unknown understudy Richard Gere was cast as leading man Danny Zuko.
In 1994,
Grease
was called back to Broadway, a revival starring Rosie O'Donnell as Rizzo, soap hunk Ricky Paul Goldin as Danny, Star Search winner Sam Harris as Doody, and pre-Karen Walker Megan Mullally as Marty. This cast was meant to sell tickets, and that is what they did. Once Rosie left, she was replaced with Brooke Shields. Four months after the show opened, a US tour was in place, with former Monkey Davy Jones playing Vince Fontain, Brooke Shields as Rizzo [before she went to Broadway], Sally Struthers, Rex Smith, Mickey Dolenz, Adrian Zmed, Debbie Gibson, Lucy Lawless, Mackenzie Phillips and Jasmine Guy in the cast at various times.
In 2007, producers launched a reality television show to cast the next revival, the show called
You're The One That I Want!
The show eventually cast Max Crumm and Laura Osnes and the show opened with a construct closer to the 1978 film starring John Travolta and Olivia Newton John than the previous Broadway productions, utilizing songs from the movie and story lines as well. Soon it was time for cast replacements to be made, and the casting of former American Idol winner Taylor Hicks as Teen Angel, and former Idol finalist [and yesterday's birthday boy] Ace Young as Kenickie. Also, once the
YTOTIW
winners moved on, other contestants were brought in to play the leads.
The revival closed in January of 2009. The tour continues, with Taylor Hicks headlining for some time to come. As part of the 'finale,' Hicks sings several of his songs from his most recent album and hawks them in the lobby afterwards.I guess that is what happens when you are released from your label contract and have to fend for yourself. You can find more information about the tour
here
.