On June 1, 2008, Westlife put on a 10th Anniversary concert, and I desperately wanted to be there. I actually thought about flying to Ireland to attend. I came to grips with the fact that it would be utterly insane for me to do that, and instead I eventually purchased the DVD, which I just love. So much so, in fact, I rue the day I decided not to go. The show was huge, a real extravaganza. It seemed like pure, unadulterated fun! Kian, Nicky, Shane and Mark looked like they were loving every moment, the Irish boys celebrating a milestone in Dublin. There were big numbers, most of their greatest hits, costume changes, fireworks, and everything else needed to make a great experience.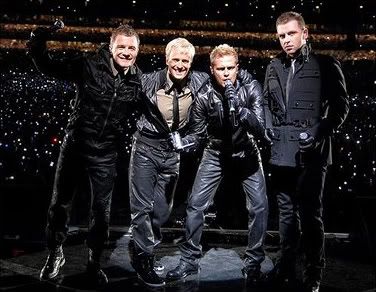 So, for my Saturday night party and to celebrate the upcoming release of their album
Where We Are
, I figured I offer a mini-concert by Westlife, with clips from the 10th Anniversary Concert. I'll start with the first song,
Hit You With The Real Thing
, move on to a medley of songs, something they do with each tour. Then there is a really beautiful version of
Catch My Breath
, a song from their last album,
Back Home
. And to end this particular version of the concert would be
Flying Without Wings
, with the dancers on silk swags and Mark hitting the ending so damn well.
Indeed, it would not be unlike me to spend a Saturday night watching a Westlife DVD. Welcome to my world. To get into the world of Westlife, you can find their official website
here
.