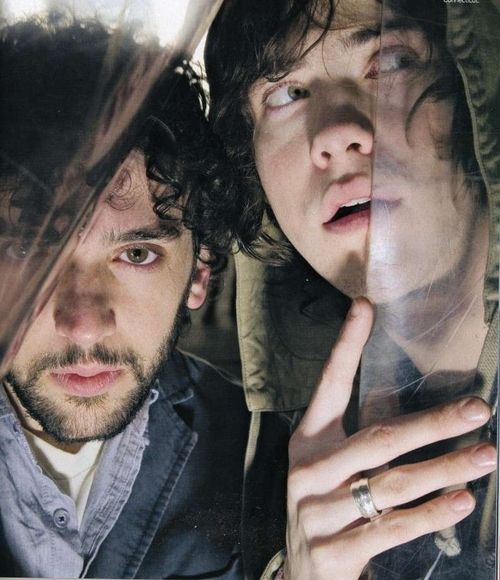 I am not sure I get it, or even if I am getting it right, but Brooklyn, New York, seems to be the new Haight Ashbury, the home of modern psychedelic rock. There is Grizzly Bear, whom I have posted before with their psychedelic-fused rock and folk. This weekend, as I troll the internet and the TV, I find there are a few more. First, there is MGMT, and odd combination of electronica and pychedelia with a healthy dose of retro-fit. The latter is something that relates to this pop sound that spans several decades, from the 60s to the 80s.
MGMT [formerly knonw as The Management, but it seems that name was taken] is made up of Andrew VanWyngarden and Ben Goldwasser, whose friendship in college lead to the formation of the band. They were signed to Columbia Records in 2006, and have done some extensive touring in support of their music. Somehow, I have remained completely oblisvious to their existence until recently. As I check out a few videos, I have also noticed a certain androgyny, especially when it comes to lead singer Andrew. Of course, I have no idea of his sexuality, which I would suppose only appropriate due to the ambiguity. The following is the video for
Kids
, and to be honest, I am not so sure if it is an homage to Freddie Mercury, David Bowie, or Olivia Newton John.
Amazing Baby are Will Roan, Don Devore, Ryan Rapsys, Rob Laakso and Simon O'Connor, also based in Brooklyn. They have a more classic rock psychedelia going on, closer to the British version in the early 90s than the original sound of the 60s and 70s. They also don't seem to fall into any androgynous thing, but the LSD-laced sound is certainly strong. They remind me of the Gallagher brothers from Oasis, with a bit of Blur thrown in for heavier music. There seems to be more Pink Floyd than Bowie in this group.
To find out more about the groups, you can go to their official websites. You can find MGMT
here
, and Amazing Baby
here
.