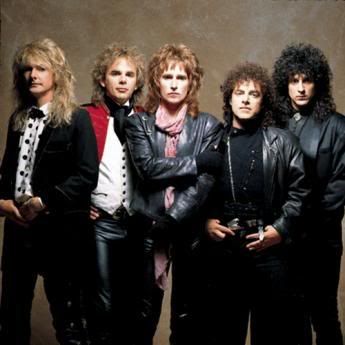 Top 2 rows: John Waite 3rd row: The Babys Bottom: Bad English
Some might think of John Waite as being a one-hit-wonder, but that is hardly the case. Waite, a British born singer, made the trip to hitsville with two bands before finding the path as a solo artist. Starting in 1976, Waite was the frontman for the pop/rock/punk/glam band, The Babys. The broke onto the US charts in 1977, with the album
Broken Heart
. The second release from the album moved up the charts, settling in the Top 20 at #13, a move duplicated with their fourth single,
Everytime I Think of You
. But it was the first Top 20 I remember most, the very dramatic
Isn't It Time
. The video that follows is John Waite in all his 70s glory.
In '79, The Babys went through a shuffle, and in 1981 decided to call it a day. So Waite made his move, and started a solo career in 1982 with an album that struggled on the charts. Then, in 1984, Waite released
No Brakes
, and the first single,
Missing You
. Waite took the husky tone to his rock voice and put it in the ballad. The song rocketed to #1 on the US charts, knocking Tina Turner out of the top spot. The album went to #10 on the charts, too.
John Waite - Missing You
Uploaded by jpdc11. - Music videos, artist interviews, concerts and more.
In 1988, three members of The Babys, singer Waite, bassist Ricky Phillips, and keyboardist Jonathan Cain went on to form a new band, Bad English, along with former journey guitarist Neal Schlon and drummer Deen Castronova. Waite was still pursuing his solo career, but the three years and two albums from '88 to '91, he was part of Bad English. The self-titled first album was an instant success, earning platinum status and the second single made the way to #1 on the US charts. The song was
When I See You Smile
, another love ballad that had become Waite's signature.
Bad English - When I See You Smile
Uploaded by mcard2006. - See the latest featured music videos.
After Bad English, Waite returned focus to his solo career, something that continues on today. In 2007, he re-released a new version of Missing You he recorded with Bluegrass goddess Alison Krauss, the 55-year-old trying to recapture a bit of his success. To find out more about John Waite, check out his official site
here
.