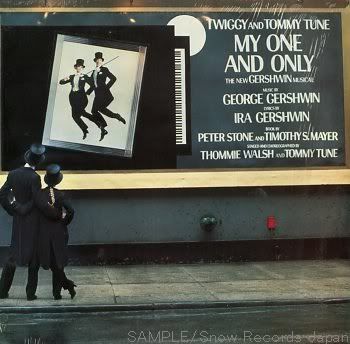 In 1983, the musical 'My One & Only' opened to stellar reviews. Starring Tommy Tune and Twiggy, it was an evening of entertainment, featuring the music of the Gershwins, with tap dancing like it had seldom been featured before. Tommy Tune not only starred, but was also the choreographer for the show. Both he and Twiggy were nominated for Tony Awards as performers, with only Tune taking his home. Tune also scored one for his choreography, making them two of the nine he has won. Later in the run, Tune would play opposite Sandy Duncan, Georgia Engel and Lucie Arnaz.
I remember back in the day there being a bit of a spat between Tune and Harvey Fierstien. Harvey, of course, was publicly out and proud, while Tune was known in theater circles to be a gay man, but tried to keep his private life to himself. Harvey, needless to say, would needle away every chance he got, with comments here and there in the press. Tune's talents were not reserved for dancing; he was also a director of several Broadway shows, including 'A Day In Hollywood/A Night In The Ukraine', 'Nine', and 'The Will Rogers Follies', as well as off-Broadway productions 'The Club' and 'Cloud Nine', which played at the Lucille Lortel Theater on Christopher Street, just down from Circle Rep where I worked.
It was hard to miss Tune either on the stage or off, as he was a 6' 6 1/2" drink of water. He was also quite handsome, but a bit of an introvert offstage. Here is an incredible clip with Tune and co-star Twiggy being introduced by Tom Selleck. They perform a song from the show, George & Ira Gershwin's great "'S Wonderful".
Currently, Tommy is touring with an autobiographical show, 'Steps In Time'. I've included the commercial for it below, and have to say while the project sounds interesting and all, my first thought is 'Tommy, damn you look good!' I mean, if I am not mistaken, the man turned 70 earlier this year. In 1997, Tune wrote a memoir, 'Footnotes', which I think I am going to have to buy because he apparently honestly talks about his life.
To find out more about Tommy Tune, you can visit his
official website
.