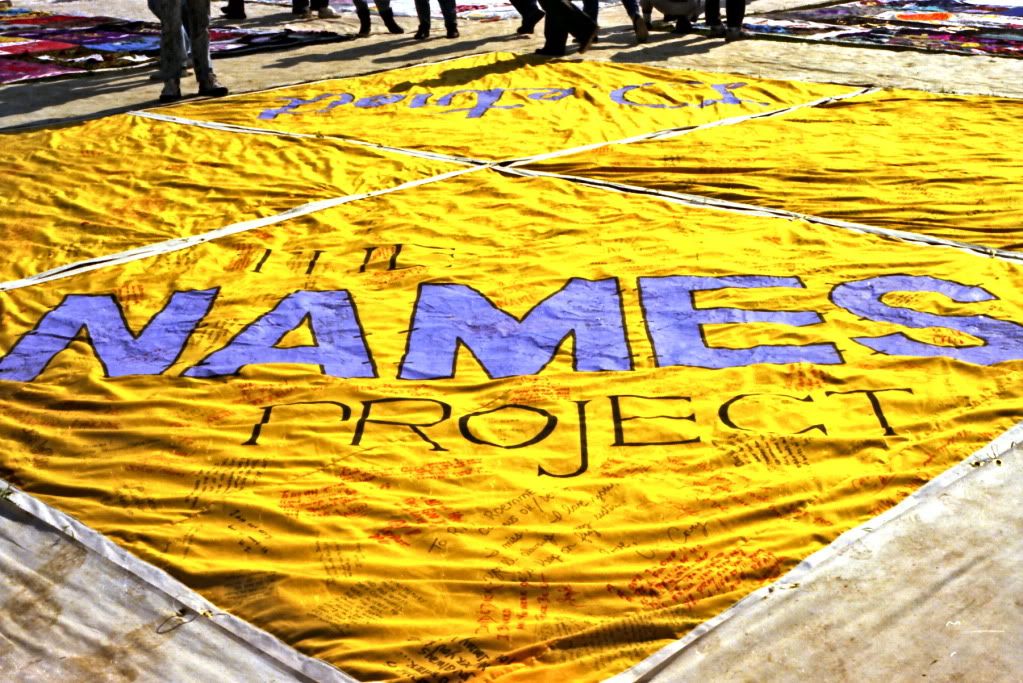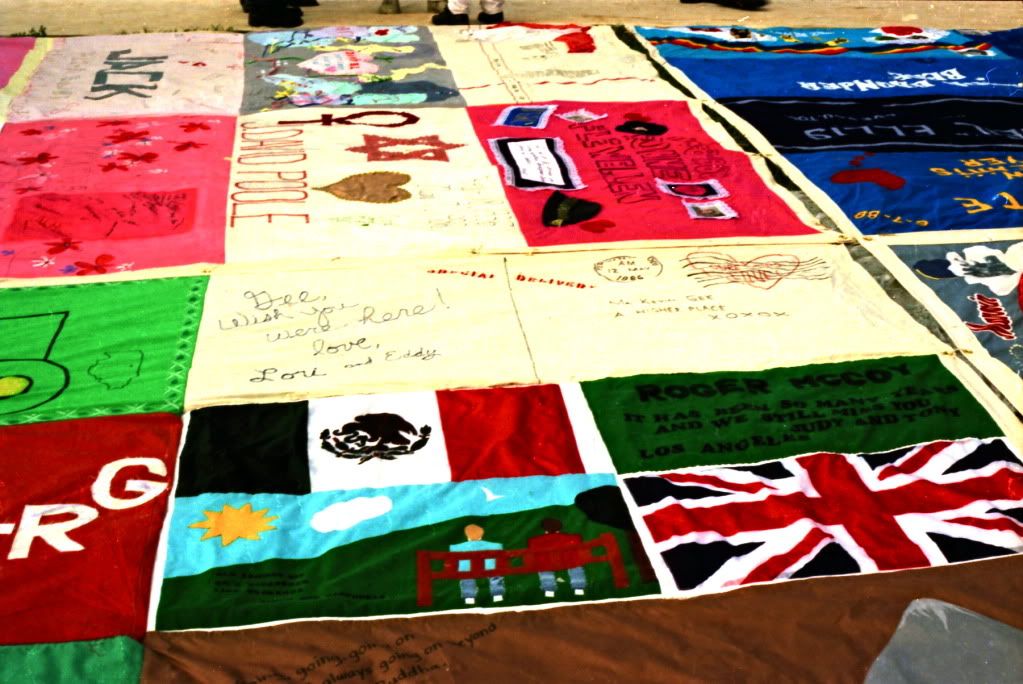 Not long ago I spoke of going to a March On Washington and the Names Project display of the Quilt, and how it moved me so. It was a time I was living and working in NYC, the late 80s. I also had a fairly active social life, attending events at the LGBT Center, marching in Pride Parades, and hanging out with friends since breaking up with Bill in '86 after six years together. I dated some, but preferred to spend time with friends, be it my sister visiting, my str8 friends I worked with, or my lesbian friends I spent most of my time with. It is my lesbians who introduced me to Michael, who I was with for about 6 wonderful months. But otherwise, there were some dates, but mostly friends. Due to the time, many of those friends were HIV positive.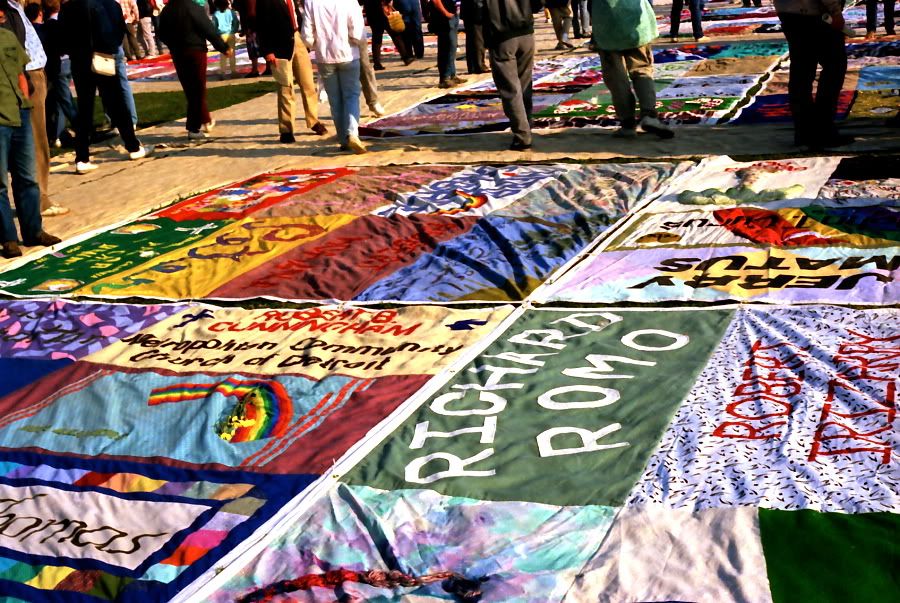 One of those was Kevin, a beautiful man with long curly hair. I had quite the crush on him, and wanted to date him, but he was more interested in a friendship, which I gladly accepted. He was an artist who often went to open mike nights at midtown clubs and sang, which me and other friends attended. When he sang
Where Do I Start
, I was moved to tears. So when I received the phone call from my friend Lizz that Kevin was in the hospital, and we should make plans to visit him soon, I was game for it. When I got the next phone call, I was blown away. Kevin passed away before Lizz and I made it to see him. I was devastated.
One of my lesbians was Roseanne, who was short in stature but tall in personality. She was always great for a hug and a kind or funny word when you needed it. I didn't know at first, but soon after spending some time with her and other friends, noticed she took a lot of medication. She had dsicovered she was HIV positive early on, and was taking very good care of herself. Many of us had thought the lesbians were the one group immune from the disease, but earlier in her life Roseanne had an addiction issue, and it seems shared needles were her downfall. She had invited me, Lizz and a few other friends to visit her family in Florida, so we went on a little vacation, also visiting Lizz's parents in Boca, and making a quick weekend trip to the Bahamas. It was a wonderful time. The only issue was Roseanne's father was not impressed the only guy on the trip had long hair, and complained to Roseanne about it.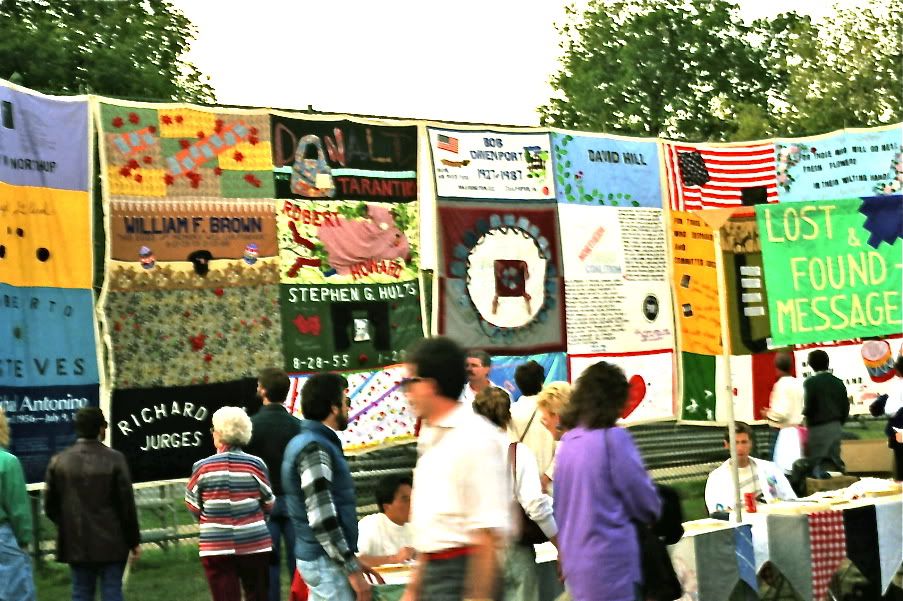 Shortly after returning to NYC, Roseanne decided to return home to her family, who were so welcoming to her and her friends, my hair excepted. We missed her when we we out for dinner or to the movies, but she kept in touch. But within a year, her health started to slip, and soon we learned she had passed. Her family handled the arrangements, and we weren't able to make it down for the funeral, but we held our own memorial in Lizz's apartment. We tried to stay positive, talking about her warmth, her humor, and what a great friend she was. We wanted to celebrate her life, not mourn it.
Another was someone I worked with, Derry. He was from the Midwest, but had made his way to NYC like many of us, to be free to be ourselves, gay men. He worked as a receptionist with the multimedia company I worked for, and he had a delicious deep voice and most delightful sense of humor. We often had lunch together, giggling about something or another. Derry often flirted with me, but really, I enjoyed his friendship and it was important to me, so nothing ever went on. He soon found someone else, a soulmate. I was delighted for him. They moved in together, and seemed incredibly happy. One Monday Derry didn't show up for work, and I got a phone call. His lover went in the hospital over the weekend, and was very sick, so he wouldn't be at work. I asked him what was going on, and he told me they were both HIV positive, and his boyfriend had been sick with a cold and it turned to pneumonia. Derry sounded so tired. Late in the day I got another call, and Derry was crying. His lover had passed away, just 72 hours after being admitted. He had waited too long to get medical help, and went downhill quickly. Derry was devastated, and blamed himself. I tried to comfort Derry on the phone, while crying myself. I and many other friends helped Derry with the funeral arrangements, and while he often tried to brighten up, you could tell he was in a downward spiral with his mood.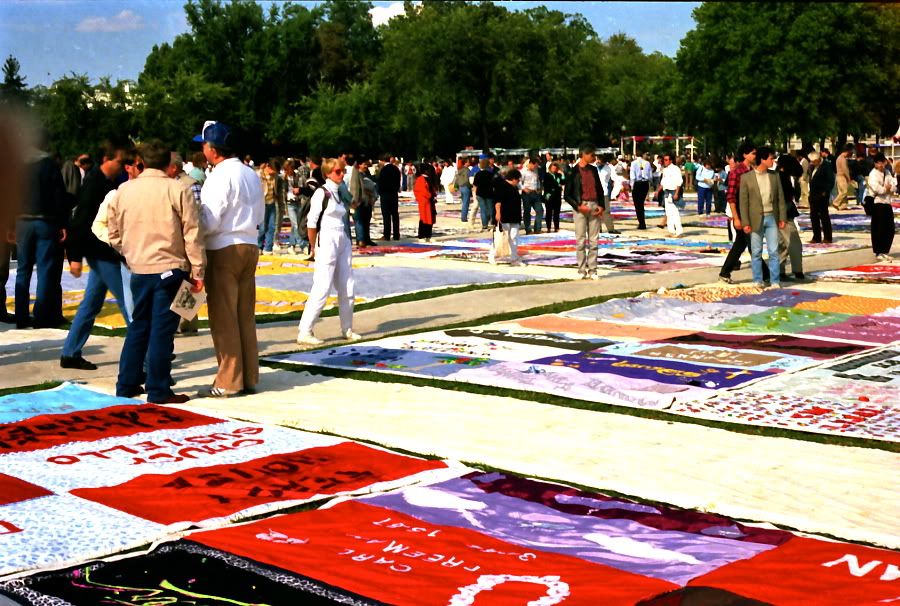 The funeral went well, but it was a time I was going to far too many. The 80s were a tough time for the LGBT community, especially in NYC. AIDS was still new, known about for less than a decade, and many HIV positive people were not seeking the help because of shame and fear. Hell, those that did seek help were more like lab rats, offered drugs as tests because the doctors weren't sure what to do. AIDS and HIV were thought to be a death sentence. Derry was in a doctor's care, but never seemed to come out of his depression. Soon he told me he would be returning home to the Midwest, to be with family. When he moved to NYC, he had come out to them and he told me they weren't receptive, practically cutting off communication. So I was surprised to hear about his move. He said he wanted to be with family, and his had been great since learning about his lover's passing. I had heard from Derry a couple of times after he moved, but we soon lost touch.
When I went to see the Names Project for the first time, it was impressive and moving. You looked across a vast field of fabric, a sewn cemetery of sorts. I was moved by the initial sight of it, and found myself wandering around it, reading names and dates, seeing parts of each person sewn into each panel. Then I saw it. It was a panel with a familiar name. Derry. I hadn't known he had died, and the family never let any of his NYC friends know. It took my breath away, and then I felt the tears falling down my cheek. A monitor, a person there for support found everywhere around the quilt, came up and asked if I was alright. I couldn't speak, and tried to shake my head to acknowledge I was fine, but the person came up and placed a hand on my shoulder, and was soon giving me a hug, holding me as I cried. I was very grateful for the comfort.
So for Kevin and Derry, for Roseanne, and for many others I knew so well at the time, I remember you today. Hell, I remember you all the time. And miss you.