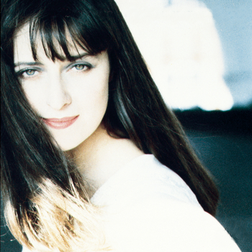 Singer Basia was born in Poland, but relocated often before settling down in London, UK, to establish a solo career. She started out singing as part of a rock band, and moved on to sing for a jazz band before embarking on a solo career that combined those genres, heavier on the jazz sound. In 1987, she released the album
Time And Tide
, which shared it's name with the first single. That single got tons of radio play, and scored a #26 on the US Billboard charts. The album also sold almost 2 million copies in the US.
Promises
was the first single to hit the charts, making it to #5 on the Adult Contemporary chart. The smooth sound and jazz rhythms scored well with the American audience.
The final single of the album was
New Day For You
, which continued weaving the jazz feel with the pop sound, this time using an beat closer to the dance sound.
The followup album was
London Warsaw New York
. It was released in 1989 and also sold nearly 2 million copies, although for me, the songs were much less memorable. For more information about Basia and what she is up to today, click
here
.