I thought I might take a look at the favorite new performers I mentioned on this blog this year. These would be the artists who released a debut CD/EP and I just discovered them. In the first post, I covered Mikey Wax, Theo Tams and Syd, while in this one I will choose my favorite video for Dave Patten, Toby Madigan & Chris Keys.
Dave Patten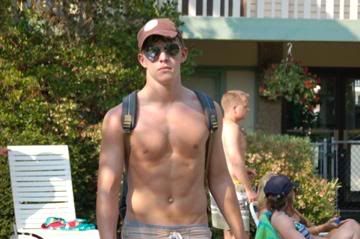 Philly's own Dave Patten is a multi-dimensional artist, having his had as a singer/songwriter in many genres, as well as taking an active role in his videos. His gritty vocals have just the right mix of tone and throaty fullness to pull off rock or mix it up with a little hip-hop. He hasn't made a
video
for my favorite song,
Back To School
, yet, but I hope that will happen at some point. But you can here it on his website
here
.
Toby Madigan
I found Toby Madigan this summer, and was amused as hell with his first video,
Chatroom Romance
. I also thought he was a sexy man, and that hasn't changed either. I found his website, and downloaded his Left Brain/Right Brain CD, and it has been a part of my musical rotation since. He combines some heartfelt emotions with a great sense of humor into really sweet pop songs. For more info on Toby, you can go to his website
here
. An out performer, Toby also was a featured artist at the recent March on Washington.
Chris Keys
Next comes my friend from Belfast, Northern Ireland, Chris Keys. I happened across his music on MySpace, and it was instant love. His voice has beautiful tone, but also contains just a light smokey quality that adds depth to each song. I immediately thought Shooting Star was my favorite, but I am a fan and love them all. He has some mp3's you can download, and you can find out about them on his website
here
. And the handsome lad has a kind of James Dean quality to him, so I can't believe we don't see him in his first music video, but since he wrote and performed the music, shot and edited the video, I can't complain too much.