I thought I might take a look at the favorite new performers I mentioned on this blog this year. These would be the artists who released a debut CD/EP and I just discovered them. They would be, in no particular order, Archie & Mehitabel, Aaron Beaumont, Angela Leo, Belkins, Billy Dortch, Matt Fishel, Erik Hassle, Chris Keys, Toby Madigan, Dave Patten, Syd, Theo Tams, and Mikey Wax. I will just say I enjoy them all, and it would take a far more analytical mind than my own to put them in any order other than alphabetical. So I will choose my favorite video for each, and make a couple of posts out of it.
Mikey Wax
I will start with str8 boy Mikey Wax, the cute guy from New York with the sweet and soft tone. I discovered his debut,
Change Again
, and was just charmed by the work of this singer/songwriter. You can find him
here
, get tour dates and also find a couple of free downloads. Here is the video for his single,
In Case I Go Again
.
Theo Tams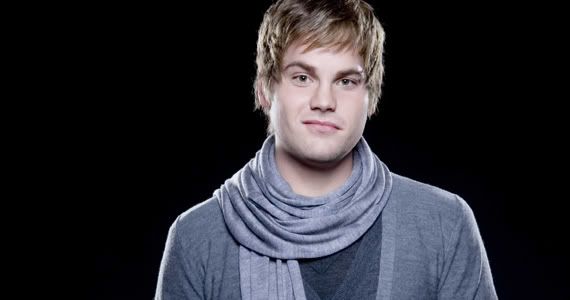 Next is Theo Tams, the sexy winner of Canadian Idol who put out a great debut in
Giving It All Away
. Theo is an out man, and does a lot of touring in Canada, although I still have hopes there will come a time I get to see him perform live myself. His first single was
Lazy Lovers
, and was the first song I heard and it just made me a fan of the man! His smooth voice and interesting phrasing are quite good. To get more info on Theo, check out his website
here
.
Syd
And there is Syd, who is not necessarily a new artist, but new to me. He hails from Vermont, but now makes his home in NYC. This str8 boy was suggested to me by a couple of my favorite artists, and it turned out to be a good thing. His EP
Upswing
is a great listen, and I look forward to more from him. His rock fuses elements of the 80s music of Elvis Costello with a current sound that is very 'Syd.' Catch up with Syd on his website
here
.