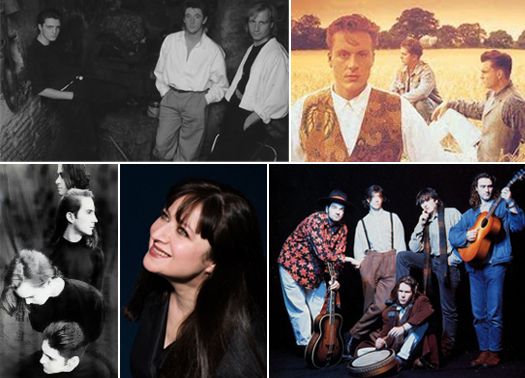 Top: Vitamin Z and Breathe. Bottom: The Origin, Basia and Hothouse Flowers.
On the final post for the Blogiversary Weekend, I thought I would revisit some of the music from the late 80s I really liked. Let me start with a favorite from 1985,
Burning Flame
. I first mentioned the band Vitamin Z
here
in the 3rd month of the blog. I admitted my fondness for singer Geoff Barradale and bassist Nick Lockwood. In fact, I still have the Rites Of Passage album sitting on the shelf. I was crazy about Geoff's voice, especially on this song.
Just a month later, I first mentioned a band I just loved for their sheer Poppiness. You can find it
here
. They were of course another British band, for they did kind of own the era. But David Glasper, Marcus Lillington, Ian "Spike" Spice and Michael Delahunty made up the band Breathe, and they were together from 1984 to 1992. The had their success off the debut album,
All That Jazz
, released in 1987. That included the first single,
Don't Tell Me Lies
.
I first mentioned the sexy Polish singer Basia in December of 2009, which you can read
here
. She thought of herself as a Jazz singer, and when given the Pop tunes, she treated them more like Jazz and that contributed greatly to her success. She scored well on both the Pop and Adult Contemporary charts with her 1987 hit,
Promises
. It was the third single off the 1986 album,
Time And Tide
.
The Origin was a band I fell for in 1990 with the release of their eponymous debut. I remember hearing
Set Sails Free
for the first time, and just loving it so much I scrambled to find the name of the band, and to find the album. I first discussed them in September of 2009
here
. Michael Andrews was the lead singer and guitarist for the band, which lasted only one more album - although both are in my collection. Andrews later became known for his work in film, as he would score movies like
Donnie Darko
. He is the man who put Gary Jules on the track
Mad World
. Here he is with his bandmates on
Set Sails Free
.
My final entry for the evening is a band who has not been posted to the blog before, but have been added to my list of ones who need to be. I first came upon the Hothouse Flowers in 1988, and was completely infatuated by them. The Irish rockers were doing their thing, adding some soul to the rock beat, with a touch of Irish storytelling on top. That, and, well, they were pretty damn hot to watch. So check out the video for their 1990 hit song
Give It Up
.
So I hope you have enjoyed my blogiversary meanderings. They were certainly fun to put together! Again, thank you!