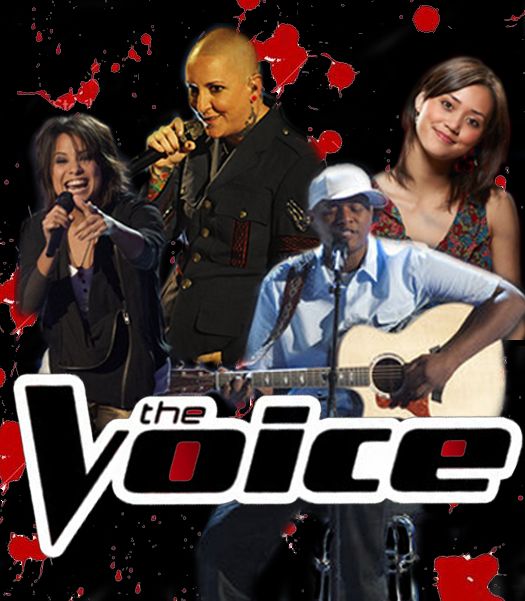 L to R: Vicci Martinez, Beverly McClellan, Javier Colon, and Dia Frampton.
The Voice
is getting ready for the final competition and vote for the first season of the show, with performances starting tonight at 9PM/8PM Central time, and going for 2 hours. We will hear the four finalists perform an original song, and also duet with their coach. To prepare you, I thought I would remind everyone of the finalists, starting with my favorite,
Vicci Martinez
. Last week, she had, in my opinion, the strongest song of the night when she played the drums and sang
Dog Days Are Over
, the song of
Florence + the Machine
. She began a bit nervous, I thought, but quickly regrouped and took command of the stage.
My second favorite of the evening was a truly magical one. When I heard
Beverly McClellan
was going to sing
BB King
's
The Thrill Is Gone
, I was afraid. I haven't been a big Beverly fan this season - thought she at times missed the emotion of the song and used her own exuberance in its place. But on this one, she was right on with it all. So wonderful.
Next up was someone I felt had such potential during the auditions, and has fallen short for me since.
Javier Colon
was all charm with his smooth rendition of
Cyndi Lauper
's (and
Rob Hyman
of
The Hooters
)
Time After Time
. But his version of
Coldplay
's
Fix You
was far from that, as it was more rock than soul, yet lacking in bravado and emotion. Hopefully tonight he can go back to what worked so well at the beginning.
The final contestant baffles me a bit. Although I do think she has an awkward, quirky charm. However, when it comes time for her performances, she tends to just barely miss the mark, with phrasing that feels forced, or at least not organic. But you can check it out for yourself, and watch
Dia Frampton
perform
REM
's
Losing My Religion
.
Don't forget to tune in tonight to watch the performances and be prepared to vote for your favorite. The inaugural winner of
The Voice
will be crowned Wednesday night between 8 & 9PM, more than likely at around 8:50PM.