For those who might not know,
Spring Awakening
is a musical adaptation of the controversial 1891 German play of the same title by Frank Wedekind. The play was opposed and often banned for it's realistic depiction of teenage children. I was drawn to the musical as it was the work of a musician whose work I really love, Duncan Sheik. For more background information, check out the post I did two weeks ago about the first Act of the musical
here
. At the opening of Act II, we find Melchior and Wendla after they have completed their intimacy, they muse as they sing
The Guilty Ones
.
Moritz has been tossed out by his family for his failure in school. He is wandering aimlessly, carrying a gun. He fights his feelings as he sings
I Don't Do Sadness
. He happens upon Ilse, the girl who was abused by her father. She is part of a free-living artist colony, and invites Moritz to join her. The high-strung boy is frightened and refuses. Ilse sings
Blue Wind
, and leaves, hurt. Moritz reconsiders and calls for her, but she doesn't hear. (This is a clip of Duncan Sheik performing the songs
Blue Wind/I Don't Do Sadness
in concert with Lauren Pritchard, who played Ilse on Broadway).
Feeling lost and alone, Moritz shoots himself with the gun. At his funeral, Melchior chastises Moritz' father for the pressure he applied to the boy, and then abandoning him. Back at school, the authorities are looking for a scapegoat so they don't have to admit they gave Moritz a failing grade even if he passed the test. They find the notes about sex Melchior had written for Moritz, and turn the blame on him. While Melchior knows he is not at fault, there's the moment you know you're
Totally Fucked
.
The school achieves their goal, and get Melchior blamed and expelled. That evening, a rather cynical Hanschen shares a special time with Ernst and they sing
The Word of Your Body (Reprise)
.
Wendla is not feeling well, and her mother takes her to the doctor. He tells Wendla she is anemic, but tells her mother the truth, she is pregnant. Her mother confronts her, but Wendla is confused. She couldn't be with child, because her mother told her how women gets pregnant, and she didn't do that. She becomes angry to learn her mother didn't tell her the truth, but the only thing her mother is interested in is to find out who is the father. She tells her about her relationship with Melchior. Meanwhile, Melchior's mother is angry that he is being punished so severely, not believing the school officials. However, once his parents learn he is the father of Wendla's baby, they know he must go to reform school, not knowing about Wendla.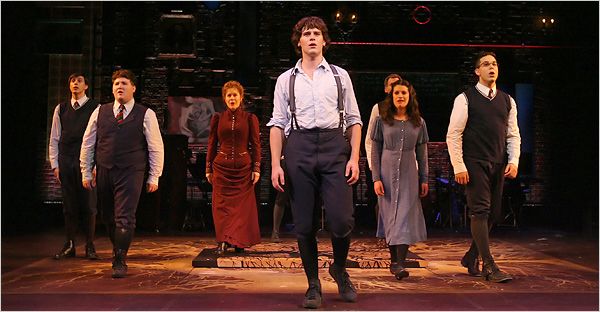 While at reform school, Melchior receives a note from Wendla he must wrestle away from other tough boys. He learns about her condition, and his impending fatherhood. He plots and executes an escape to go to Wendla. What he doesn't know is that Wendla was sent off to have a backroom abortion. Upon reaching town, he sends a message to Wendla to meet him at the cemetery. There, he finds Moritz grave, and he swears he and Wendla will be better parents to their child. He worries as she is late. Then he notices a new grave, and discovers it is hers. He is angered and distraught. He pulls out his knife to take his own life. Then the spirits of Wendla and Moritz come to him, and encourage him to fight on, to keep their spirits alive in the song
Those You've Known
.
Soon, Melchior is joined by Ilse and the kids of the town. The have come together to profess a desire to have a hopeful future. The sing
The Song Of Purple Summer
.
Curtain. Standing ovation. Tears. Cheers. Stomping. The brilliant young cast, remarkably youthful and talented, made brilliant theater. The show was nominated for 11 Tony Awards, and won 8 of them. I would have given them all eleven.