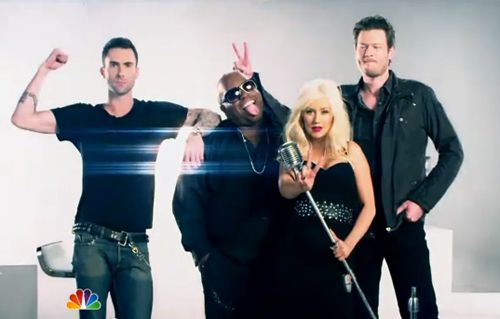 The shows open with a medley of great songs by Queen. I have to say, I was thinking this was going to be much better than it was. The song choices were fairly trite and really, not assigned well. There is plenty of blah-blah going on, but that it comes down to is that there will be 4performances from 2 teams tonight, and the audience will save one from each team, and the coaches save another.
Raquel Castro is up first, and she sings
Blow
by Ke$ha. She is billed as a little powerhouse, and Ms. Aguilera has dancing all over the stage, complete with dancers decked out in white. AShe dances well, but unfortunately, for me at least, it seems like she gets caught up in her head voice, and just rides the flat side of the notes for most of the song.
Jared Blake, dubbed the king of second chances by Carson Daley, sings
Use Somebody
by Kings of Leon. He is competent, although he does seem to utilize every tired prop that says 'rocker,' from the headband to the excessive jewelry to the blond chick int he audience.
Beverly McClellan sings Mellisa Etheridge's great song,
I'm The Only One
. It seems Beverly is sick earlier in the week, and urged to not rehearse too much. So I am not sure if the failure of the top end of the song is because of illness or just natural. Of course, giving one of the lesbians the Melissa song seems a little easy, but expected. She does well, but
Dia Frampton is up next for Team Blake, and will be performing an acoustic version of Kanye West's
Heartless
. Blake gets her to perform with a piano to try to funnel her nerves. It works, and she knocks it out of the park. That is easily my favorite performance so far. She took the song, shook it up, and rolled sevens.
Coach Christina Aguilera leads the girls in a rousing version of
Lady Marmalade
, originally sung by LaBelle. The ladies were just flat-out wailing for the whole song, not leaving a space to relax. I personally would have welcomed it.
Xenia comes out kinda doing her thing as she performs
Price Tag
by Jessie J. While her version is somewhat quirky and introspective, it is rather good. And as she sings, she gets better, more comfortable. I really liked that! Xenia is giving Dia Frampton a run for the best of the night.
Lily Elise is coming out to perform Fergie's
Big Girls Don't Cry
. Wow, that is a big steaming pile of mediocre, complete with dancers. I just need to let that one go.
Blake and his team do their own group number. They are singing a song of Adam's,
This Love
by Maroon 5. My first reaction is that the girls are making the boys look incredibly weak. That is, until Blake joins them, and he really brings it.
Patrick Thomas is performing Leeann Womack's
I Hope You Dance
, and I can't help but wonder if this is really just the go to country song for all the competition shows? I mean, can't Blake come up with something better? I find his performance to be fairly sanitized and vanilla, exactly what I expect from him. Christina, meanwhile, would like to see him without pants. I am not sure would be a good thing.
Christina seems intent on trash-talking with the boys, only the guys are not engaging with her. I don't get it. But it is time for the final performance of the episode. We get Frenchie Davis singing
When Love Takes Over
, by David Guetta, featuring Kelly Rowland. I am a little tired of the 'finally America will get a chance to vote for me' storyline. The song is just Hi N-R-G dance power vocals, and Frenchie should have been able to kill it, but just fell short for me.
For the recaps, I am reminded a bit too much of mediocre and bad performances, and not enough good. If I was to bet who will be safe, I would say Dia, Xenia, Beverly and Frenchie to get through, the other will be going home. But I think the voting block for Country singer Patrick Thomas might have a say in that.