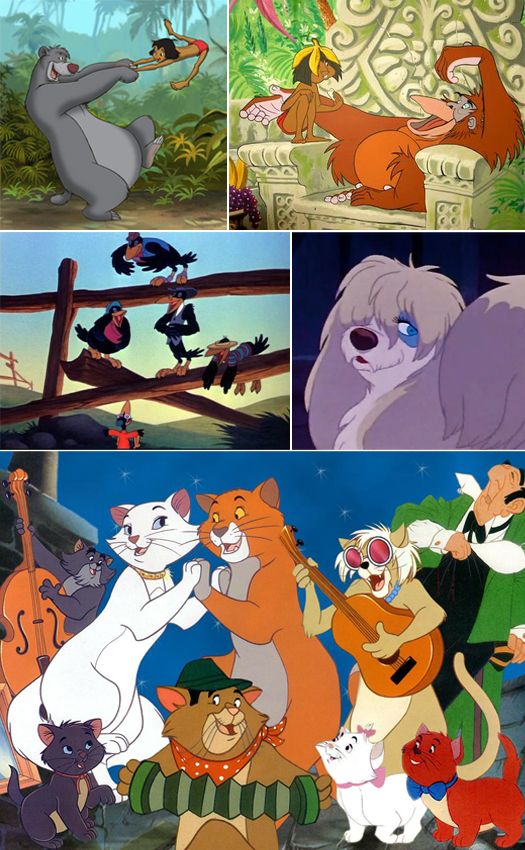 Once upon a time, in a cartoon far, far away, a man named Walt Disney took animation to new levels when he was producing feature length animated movie musicals, complete with new scores and some of the top musical talents of the day. Whether the films were telling classic fairy tales, or some original stories, they had a different spin than anyone else was bringing to animated films. That included the music, and the singers and musicians involved as well. Disney Studios employed some of the best, and often brought in some of the wonderful Jazz performers of the day. Check out one of the early examples of the Jazz influence at Disney with Cliff Edwards and the Hall Johnson Choir singing
When I See An Elephant Fly
from the 1941 film,
Dumbo
.
In 1955, the studio invited Miss Peggy Lee to appear as one of my favorite characters from
Lady & the Tramp
, Peg the Lhaso Apso. Like many of the characters from the movie, she has fallen in love with Tramp and sings
He's A Tramp
.
In 1967, Disney took a book by Rudyard Kipling and gave it that special something only Disney could bring. They brought in drummer and bandleader Phil Harris to sing
The Bare Necessities
from
Jungle Book
.
In the same movie, they hired Louis Prima to bring his New Orleans-style Swing to the table as King Louie, leader of the Apes. He sings
I Wanna Be Like You
, a real standout from the score of
Jungle Book
.
Finally, in the 1970 animated film,
The Aristocats
, just chock-full of amazing talent. When Scatman Crothers, Phil Harris, Robie Lester and friends get together to perform
Ev'rybody Wants To Be A Cat
, the whole joint is rockin' in one of the high points to an entertaining film.
For more about the Disney animated musicals, check out the official Disney website
here
.