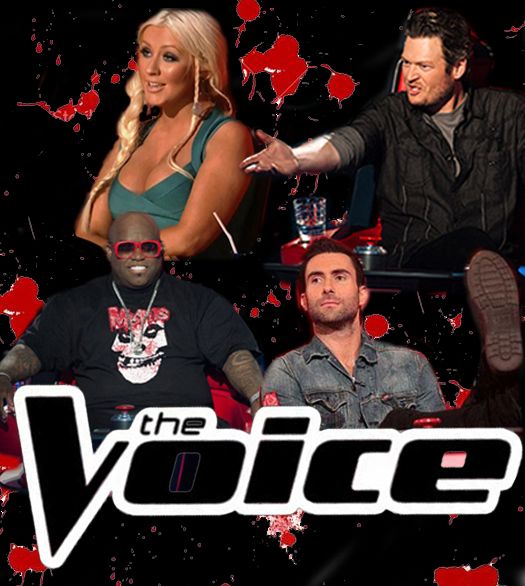 The show opens with a recap of the results from Team Xtina and Team Blake, all to prepare us for Team CeeLo and Team Adam doing the same thing. We also hear we are going to hear Blake sing his new single, and Maroon 5 will do the same. But first, the results. Team CeeLo is up first, and the artist with the most votes is Vicci Martinez. Wow, that is impressive. Now it is up to Cee Lo Green to save one other member of his team. So, after a long speech, Cee Lo talks about each one, and he finally gets to choose one, Nakia.

Soon it is time for Team Adam to have their turn in the spotlight. Adam is not happy, but his team is now on the chopping block. Host Carson Daly makes the first choice known, and America votes for Javier Colon. So Adam blabbers on much like Cee Lo did. Then Adam surprises people by making his choice, and saves Casey Weston. He says he had a last-minute change of mind, and picks her over Jeff. So that is the final 8 contestants.

All will compete tonight, and the voiting will continue until 10AM Wednesday morning Eastern Standard Time. The producers will combine America's vote with the coaches scores, and one contestant from each team will be named on the results show Wednesday night. Interesting thoughts before the singing starts. two of the four winner's of America's choice were lesbians. The other two had no out LGBT people in the running. Three of the eight are out gay people. All three LGBT contestants survived the cuts this round, while eight 'straight' contestants went home. There is no real Country contestant left in the field. (Later, I am proved wrong when we hear Casey Weston has Country aspirations.) And two out of eight are males, the rest females; three out of four of America's choice were ladies.
The first semifinalist to take to the stage is
Frenchie Davis
from Team Xtina. She will be singing
Madonna
's
Like A Prayer
. Christina wants her to bring it to church, and gospel-fy it. Well, she does a nice job singing it, but I have to say I didn't hear the gospel in it. She certainly has the power and control.
Nakia
is up next, singing
Adam Lambert
's
Whatatya Want From Me?
He was in Austin, Texas singing in blues bars, and now he is being asked to sing pop and rock ballads by his coach.
He starts the performance at the keyboard, and breaks the songs down in a more dramatic acoustic thing, only to shove back the bench and take command of the stage. It was a powerful performance, to be sure.
Dia Frampton
is up next, and she his going to perform REM's
Losing My Religion
. This week she will be playing the guitar, leaving the piano to someone else. She is expecting people to clap on her chorus.
While the judges were all very fond of her performance, I was less sold on it. I find Dia's voice to really grate on me during this song. She wasn't bad, just not that interesting.
Casey Weston
is going to take on the gargantuan force that is
I Will Always Love You
, the Dolly Parton song covered by Whitney Houston. Casey has dreams of Nashville, and leans more toward Dolly and Whitney.
The judges were once again all sunshine and lollipops, yet I was a little taken aback by her vibrato. I don't remember hearing it quite so saw-like before, poking at my eardrum. Next on the schedule, we will see Maroon 5, featuring Adam Levine, perform their new single, Moves Like Jagger, with an assist from Christina Aguilera.
Levine has such control over the stage and what is going on around him while he performs. Partially thought the song, Xtina joined the performance, but was hideously styled. Adam was looking great is his suit, but Xtina, pul-leeze, girl.
Beverly McClellan
is the next to take to the stage. Xtina tells her she will be singing
BB King
's
The Thrill Is Gone
. Beverly says it brings to mind the great
Etta James
.
Beverly starts out on the piano, with a quiet and subtle performance. She sings the crap out of that song, and gives what I think is her best performance to date. She delivered such a soulful rendition of the song, so far superior to any of her songs to date.
Javier Colon
is up and will be singing
Coldplay
's
Fix You
. Adam wants him to anchor it with the familiar for the first couple of phrases, then make it his own.
Although the crowd is going wild, I have to say I was not overly impressed by the performance. He seemed to be a bit swallowed up by the production of the song. They make a big thing him losing the hat and exposing his bald head. Adam says Javier has, "like, the best voice ever." I am not as sure. Next up, coach
Blake Shelton
performs his latest single,
Honey Bee
. They tease there will be two very special friends joining him on stage.
Blake is the current CMA Male Vocalist of the Year, and he shows why. He bravely walks out in the crowd, smiling while he does. And, what a great guy, he is joined on stage by his team,
Dia and Xenia
. Well done, Blake! I have been impressed with Blake this season, he seems really devoted to his team. And, after a commercial break, Xenia will be taking the stage for her own performance. She will be singing
The Man Who Can't Be Moved
by
The Script
.
She does a really nice job with the song, but there is an unfortunate part of the chorus that is just out of her range. She makes up for it with a striking and unique interpretation of the song. Her voice and phrasing are so lovely. I totally enjoy her performances. That leaves only
Vicci Martinez
to perform. She will perform
Dog Days Are Over
by
Florence + The Machine
.
She is starting in front of a set of drum, and the opening is a bit flat to me, but once the chorus kicks in, and she starts beating those drums, she is incredible. She transforms that into the best performance of the night. With the drummers and music and the voice and the staging, that was just a powerful thing. Way to go, Vicci and Cee Lo.
Voting numbers:
Frenchie 1-855-864-2301
Nakia 1-855-864-2302
Dia 1-855-864-2303
Casey 1-855-864-2304
Beverly 1-855-864-2305
Javier 1-855-864-2306
Xenia 1-855-864-2307
Vicci 1-855-864-2308
So, if I was to pick the top 4, the top contestant from each team, really, it would be Beverly, Xenia, Vicci and, I guess Javier. Is that what will happen tomorrow night? I don't know.