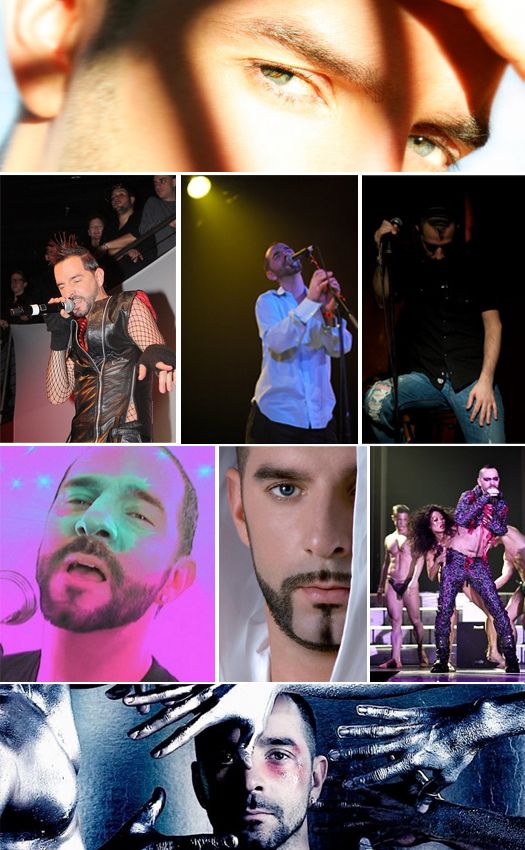 The opportunity to talk to Jason Walker about his music was something I could not possibly pass up. When the appointed time came, I have to say Jason was sweet and charming, and more than willing to talk about the music. So much so, I have to break the interview into two parts! I shall start from the beginning, like what music had he grown up with in Pittsburgh? "My mother had, and still has," he told me proudly, "a record collection that would be the envy of many a DJ, and I grew up around really great music, like Motown, Disco and Pop music."
It seems his mother could be credited for much of his current path. "I started singing when I was 4, and my mother put me in a church choir," he explained. "I joined the choir and found that I loved Gospel music and lady singers, if you will."
Does Jason feel like part of Pittsburgh is still with him? "I feel like my really young years are still with me, like the years when I'd blast Patti LaBelle from the dining room when my parents weren't home," he told me, laughing. "And the neighbors would tell them "Oh, he was singing again…" I feel like I carry that with me all the time. I think a lot of the imprinting I did as an artist happened in Pittsburgh. I feel that is how I really started to learn how to sing."
So what was the next step? "Once I started finding myself in high school, I started writing music, too. I was singing with a black group, at the time, there was some interest from some labels - we wrestled with them for a few years. Then there was some interest from Motown. But they just wanted me, not the group. I was kind of looking for a way out at the time, so that was a welcome exodus, if you will. Well, that ended up being a really, really bad deal. I remember my attorney at the time telling me "if you sign this, there is no way out for you. They're wanting you to relinquish all rights to everything, but promising you next to nothing." So I ended up not signing. I was living in Pittsburgh, immersed in the dance music and the club scene. I was just 18 when all this went down."
I'd heard of his triumphant turn on the Harlem stage, and wondered how much winning on
Showtime At The Apollo
influence or change his career? "That show, that night, that performance, it really changed me. They say that the Apollo is a really harsh crowd, and I feel like that puts it lightly," he recalled, laughing. "And if you can sing there, you can pretty much sing anywhere. If you can win that audience over, then you're on the right path. That was definitely a life changing evening. My singing and winning is what prompted me to move to NY, because I felt it was where I had to be."
And so the New York leg of the journey begins. Walker moved to the city, and was soon signed by legendary DJ/Producer/Music Impresario Junior Vasquez. It is with Vasquez that Walker's first two albums,
This Is My Life
and
Flexible
, were born. I asked about the sound and energy of the music. "I was a big Junior fan before I moved to New York, so the thought that I got the chance to work with him was a big thrill for me. His music was kind of uninhibited, wild, and sometimes erratic. And I got to be a part of that. I thought I had a better chance of working with Peter Rauhofer or Danny Tenaglia than with Junior Vasquez. No one else was sounding like him. He paved the way for a lot of people, with that kind of sound."
What was it like working with the legendary DJ? "I feel like my music with him came in on the heels of when he was really, really big on the New York club scene. But he was still packing the really big places. The insanity that was Junior Vasquez was still, like – the city was still abuzz with him and everything he did."
After the muscular vocals and driving sound of Junior Vasquez, Jason worked with Quentin Harris. With Harris, this work seemed to have a more personal touch. "Oh, yeah. I agree with you there. I have always considered myself to be a pretty well-rounded singer. I moved to NY because I wanted to do club music – that was my plan when I moved here. Just because an opportunity came along to work with Junior didn't mean I didn't want to do anything else, or wasn't able to do anything else. An opportunity presented itself and I jumped on it. I jumped on it because I love that music and I thought Quentin was amazing. It was a thrill for me to do it. I guess I was a little burnt out with 'All-things-Junior', which could happen with anybody. I felt like dance music was moving in a different direction and I had come to know and admire a lot of producers I wanted to work with, and who wanted to work with me. And Quentin was one of them."
"He remixed
Foolish Mind Games
, my second record with Junior," Jason remembered. "That kinda sparked a relationship between he and I, and when he was doing his first album,
No Politics
, he asked me to be a part of it. That is were
Can't Stop
happened. I remember him telling me, "OK, I have two ideas, we can record them both and whichever comes out better… He wanted to do a cover song with me, which I was fine with. It was either going to be
You Belong To Me
, which was originally by Carly Simon but Michael McDonald had done a great cover, or it would be
Can't Stop
, by After 7. I always loved that song, and thought it could be a really hot contrast. So that is just the one we did first. When he heard how it came out, and saw the natural progression of the song, he said, 'OK, this is the one are going to go with.' So it went on his album and became a single off his album, and it further solidified our relationship, as far as working together. I feel it made our friendship grow stronger, cause he is a really good friend of mine. He is really underrated in the US, cause if you travel outside of the country, he is everywhere, all over the place."
"But when we did that record together, then when he did the second album,
Sacrifice
, which I think came out last year, we ended up doing two songs together; a cover,
Circles
, by Atlantic Star, and an original composition of mine called
Home
. I wanted to work with other people. By that time, the partners split and Junior Vasquez Music dissolved. So I was free and clear to do whatever it is I wanted to do, which is how my latest album,
Leave It All Behind
, happened.
In the final half of the interview, I discuss Jason's latest album,
Leave It All Behind
, and the new EP,
Live And Unplugged
. Look for it next Sunday night, June 26. You can purchase Jason's music on iTunes
here
and
here
, and Amazon.com
here
or
here
. You won't regret it for a moment! Don't forget to check out Jason on his official website
here
.