Left to Right: Cee Lo Green, Blake Shelton, Christina Aguilera & Adam Levine.
Tonight we will learn the final four who will fill out the Top 8, as the voting for last week's teams, Team Adam and Team Cee Lo, come back. Who will be America's choice to survive? And who will be the coaches choice? I think it will be Vicci Martinez and Nakia making it through from Team Cee Lo, and Javier Colon and Jeff Jenkins through for Team Adam. However, I would put through Casey Weston instead of Jenkins, based on performance last week. But whomever gets through will be competing tonight for the Top 4, along with Dia Frampton and Xenia from Team Blake and Beverly McClellan and Frenchie Davis from Team Christina.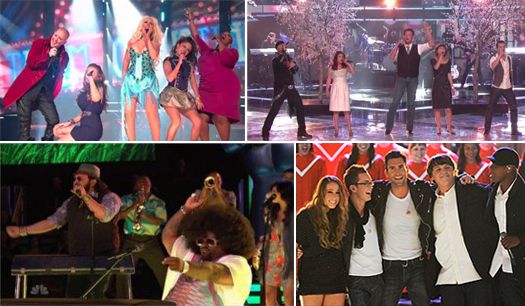 Just to give a little reminder of the last two weeks worth of shows, I thought I would post the Team songs that said a great deal about the teams. Let's start with Team Christina singing LaBelle's
Lady Marmalade
. Of course, Christina also sang the song with Pink, Lil' Kim & Mýa as part of the 2001 soundtrack for
Moulin Rouge
, so it comes as no surprise she pulled it out of the closet for her group of four lady-divas. Unfortunately, I thought the performance was a bit of a muddled mess.
That same show two weeks ago, coach Blake Shelton led his team of Dia Frampton, Xenia, Patrick Thomas and Jared Blake, for their number on the show. Team Blake sang the Maroon 5 hit
This Love
, much to the delight of Adam Levine. I was pleasantly surprised by this one, and thought Blake acquitted himself very well.
Last week, the other two teams took to the stage. Cee Lo Green was joined by Vicci Martinez, Nakia, Curtis Grimes, and Tori & Taylor Thompson when they performed Sly & the Family Stone's
Everyday People
. It was a great song, but it was quite the uneven performance, at least for me.
Finally, llast week marked the time when Team Adam performed the Lennon/McCartney classic,
With A Little Help From My Friends
. Javier Colon, Casey Weston, Jeff Jenkins and Devon Barley joined Adam for what was, in my book, a strong performance.
So tonight we shall see who stays from Teams Adam & CeeLo, and then watch the semifinals, when the remaining eight will be featured. Tonight, at 9PM/8PM Central, the fun begins on your local NBC station. Can't wait to see what they have in store for us this week. I will be doing a recap, and will also be appearing on Rickey's Secret Show later tonight.