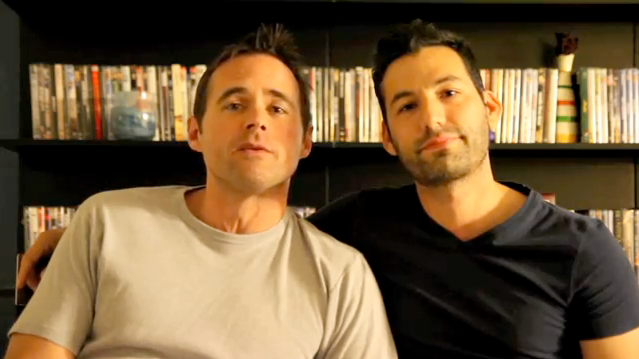 Out actors Steve Callahan and Matthew Montgomery took to their webcam to challenge other gay actors to take a stand and be out and proud, to be real Trailblazers. The real-life couple, who only last year played opposite one another in the excellent movie
Role/Play
, while Montgomery has starred in
Gone But Not Forgotten
,
Back Soon
,
Socket
, and
Redwoods
, while Callahan has starred in
Make The Yuletide Gay
,
Nine Lives
, the delightful & sexy
East Side Story
, and the soon-to-be-released
Abrupt Decision
. And those are just the DVDs that I can find on my shelves.
As you could tell for the list above, which isn't even the entire resume for either actor, it certainly hasn't slowed down either talented man. It hasn't seemed to have hurt Neil Patrick Harris
Modern Family
's Jesse Tyler Ferguson. But the idea for the project came from another source, a young actor you might not have heard of. James Duke Mason came up with the idea for the Trailblazer Campaign, a way to increase visibility for LGBT folk in the entertainment industry. The 18-year-old knows a thing or two about that, having grown up the son of music great Belinda Carlisle, lead singer of the Go-Go's. Give a listen to the cutie as he explains the reason he decided to start this up.
If you know any out who might be interested in joining, send them a link to the videos. Who knows what higher profiles could bring to the community? The benefits of allowing the rests of the American public to get to know us is endless, even if it might not yield 'profits' right away. But as other Americans come to know the gays as people, not just a derogatory name they use from time to time, it might just change a few thoughts on the equality front.